Fire, feast…fun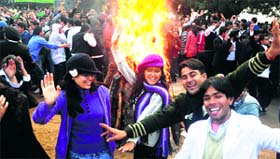 This is a law and universally applicable too, unless you are hell-bent on challenging it. If you want to reap the harvest, you must first sow the seed. Apply it to the most mundane things like wanting to eat something great; either move to your kitchen or make an effort to drive to a nearby restaurant and order it. Likewise, if the farmer doesn't work relentlessly in the fields, how can he enjoy the harvest, sing and dance around the bonfire and celebrate Lohri.
gyan zone
The show goes on…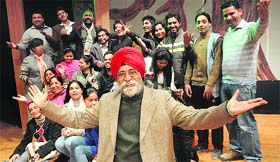 Having given thirty-eight years of his life to active theatre, the journey of Dr Atamjit has been a happy one. Having written, acted and directed numerous plays, he has his kitty full with awards and he is proud that theatre today has a say in the cultural scenario of the region.



play time: Dr Atamjit with his actors for the play Panch Nad Da Paani.

Classic case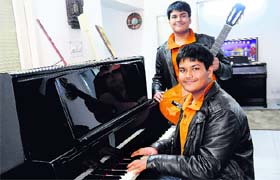 Western classical music is a serious business in this house. So much so that the 15-year-old refers to Beethoven as Ludwig van Beethoven. "He's my ultimate inspiration in music. Then there's Mozart." Eash Goyal loves playing the piano and takes you back to where it began and throws in a couple of more names from the western classical genre—JS Bach, Scarlatti, Franz Schubert.

Twin treat: Eash (on piano) & Eashan Goyal

pet passion
A dash of affection
"Our Niku is a real brat of the first order and we have spoiled him silly but no regrets" chorus Navneet and renowned pediatrician Dr Sarabjot as they look fondly at the black and brown dachshund. Four-and-a-half year-old Niku is an inseparable part of the family and gained more importance after their children left abroad for further studies.


Graffiti

Aradhika & Sesh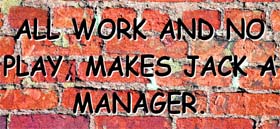 Master Chef
Warm gesture
Method: Put the tomatoes in boiling water for 30 seconds. Peel them and chop the tomatoes. n Mix 2 tbsp oil and onion in a microwave proof bowl. Microwave it on high for 2 minutes, stirring once.
star track


Anushka: Ranveer and I never dated


On cloud nine


Matru fails to charge-up


Fat not weighing her down


Quiet birthday


Biker girl


Salman's new diet
chatter box
Century celebrations
Date with calendar!
Real buzz
War of attrition
Why Drashti missed Vivian's wedding
Amita's dream boy