4 Jat Regimentís Raising Day
Army commemorates its í71 Indo-Pak war heroes
Praful Chander Nagpal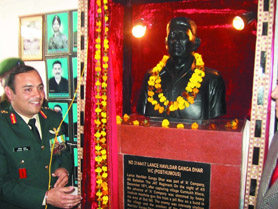 Colonel Viresh Thapar, CO, 4 Jat Regiment, unveils the bust of Havildar Ganga Dhar at the war memorial in Asafwala village on Tuesday. A Tribune photograph

Fazilka, January 15
Officers and jawans of the 4 Jat Regiment celebrated their 51st Raising Day at the 1971 Indo-Pak war memorial in Asafwala village, 7 km from here, today. Busts of Major Narain Singh and Havildar Ganga Dhar, who were awarded with the Veer Chakra posthumously, were unveiled by Colonel Viresh Thapar, Commanding Officer, 4 Jat Regiment, and other war veterans in the presence of a large number of widows and kin of the soldiers who sacrificed their lives in the Fazilka sector during the 1971 war.
The busts have been laid in the museum of the complex.
About 100 family members from distant parts of the country reached the town to attend the event. Nearly 26 war widows, a dozen retired army officers and soldiers, who participated in the war in the Fazilka sector, recalled one of the most ferocious man-to-man combat.
The war widows and kin paid obeisance at the sanctum sanctorum where collective cremation of 82 war heroes of the 4 Jat Regiment was performed after the ceasefire in 1971. Some of the kin had visited the memorial complex for the first time. They included Sabuna (42), the daughter of Colonel JB Ale who had come from Dehradun. "It was during the battle at Sabuna bund on the intervening night of 13-14 December, 1971, that I got the news of my daughter's birth. Later, while the family was selecting a name for her, we zeroed in on Sabuna so as to commemorate the battlefield," said an emotional Colonel.
Another such visitor duo was Parkash Wati and Pratap Singh, wife and son of Colonel Sukhpal Singh who had come from Kasani village (Gurgaon, Haryana). "My father was injured with 16 bullets and was directly airlifted from the battlefield to Delhi where he succumbed to his injuries. He was awarded the Veer Chakra posthumously," said Pratap Singh.
A living legend Havildar Birjinder Singh (86), the Veer Chakra award winner, accompanied by his grandson Captain CP Singh recalled some events of the furious battle in Fazilka sector.
Brigadier (retd) Sham Lal, who had participated in the war as adjutant, recounted the horrific war scenes that took place in areas adjacent to the war memorial.
The president of the Shaheedon Ki Samadhi Committee, Sandeep Gilhotra, and other members honoured as many as 26 war widows by presenting them with woollen shawls.