Khaps again demand amendment to Hindu Marriage Act
Jhajjar, January 17
Representatives of various khaps of Haryana while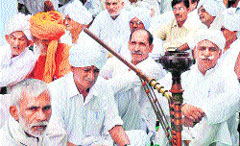 appearing before the Supreme Court on January 14 have reiterated their demand of an amendment in the Hindu Marriage Act 1955 by submitting some logical memorandums in this regard.
Sirsa cops to regulate traffic in busy markets
Sirsa, January 17
The Sirsa police will regulate vehicular traffic in busy markets and take steps to enhance beauty of the town with the cooperation of local traders.
Sonepat police arrests 12 POs, five bail jumpers
Sonepat, January 17
Maintaining a vigil against the anti-social elements, the local police claimed to have arrested as many as 12 absconding criminals declared as Proclaimed Offenders by the court during the first fortnight of the New Year. A police spokesman said the gangsters had been evading arrest for the past more than two years.