Heavy snow, rain in Mussoorie, surrounding areas
Strong winds damage tin roofs, uproot trees, blow away hoardings
Our Correspondent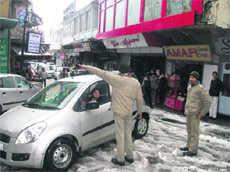 A policeman manages traffic on Mall Road in Mussoorie on Friday.
Mussoorie, January 18
The hill town of Mussoorie was today lashed by rain, hail and snow, leading to a dip in the temperature, forcing residents to take refuge indoors.
The continuous rain and hail accompanied by strong winds for the last 36 hours led to damage of tin roofs, advertising hoardings and trees, as branches were seen strewn all over Mall Road.
A fresh spell of snow and hail lead to erratic power supply in Mussoorie, which was rectified by late evening today. Farmers from villages adjacent to Mussoorie heaved a sigh of relief due to the heavy rain in some areas, which they considered would be beneficial for the crops this winter.
However, the farmers in certain areas look worried due to heavy hailstorm accompanied by rain and snow that could damage the standing crops, much to their disgust.
The upper reaches of the mountains such as Nag Tibba, Lal Tibba, Dhanaulti and Kanatal experienced 8-12 inches of snow, forcing tourists to rush towards Dhanaulti around noon, but they had to return due to road blocks at several places near Buraskhanda.
Some residents had a horrid time due to the strong overnight winds, which resulted in uprooting trees and tin roofs yesterday night at Jay Pee Residency bend near Duglous Deal Estate.
The tomb of Sai Temple in Mussoorie was damaged with a gaping hole as lightning struck it late at night. No human casualties have been reported so far.
Many trees on Mall Road were uprooted and some branches were hanging precariously on the trees near Vasu cinema due to the strong winds yesterday.
The roads leading to Uttarkashi, Moriana Top, Dhanaulti and others areas of Garhwal remained closed due to heavy snow and hailstorm. When contacted, PWD Executive Engineer CP Singh said that efforts were on to open all roads for vehicular movement.
Meanwhile, tourists were seen enjoying themselves in snow in Mussoorie.
Inder Deep Singh, a tourist from Ludhiana, who arrived at a hotel in Mussoorie along with his family, woke up to a pleasant surprise on seeing the town covered with white snow flakes and hailstones. Enjoying the snow by throwing snowballs at each other, Inder Deep Singh said that the snow was unexpected and they were enjoying every moment here. He also said that they had extended their stay, expecting more snow.
According to the Met Department, more rain and snow are forecast in the night and the weather could clear by late afternoon tomorrow in Mussoorie.