M A I N N E W S
India to ramp up surveillance along LoC
Human intelligence to play a bigger role backed with top-line equipment
Ajay Banerjee/TNS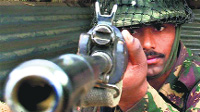 New Delhi, January 20
Almost two weeks after tensions escalated along the Line of Control (LoC) in Jammu and Kashmir, India will ramp up its surveillance network by adding more gadgetry and by having more robust human intelligence network that will provide timely information on any such development on the Pakistani side along the LoC.
At present, the Indian Army stationed along the LoC uses thermal imagers and long-range reconnaissance and observation system (LOROSS) to see movements across and also along the LoC. This is backed by other method of 'listening' radio waves of telephone networks and enemy radio systems. These equipments have terrain and weather related handicaps.
Having a synthetic aperture radar (SAR) that is capable of seeing through clouds, tree foliage and fog is an option but it would cost hundred of crores to have such radars all along the 724-km-long LoC that runs along some of the most inhospitable, dangerous, icy and rugged mountain terrain.
At present India has one satellite RISAT-I that has SAR capabilities but that cannot beam pictures 24x7 of the entire LoC. A new set of sensors that have night capabilities could be tried out. The other option is SAR-capable unmanned ariel vehicles (UAVs) but that would again mean constant ground monitoring and flying.
A final plan will be drawn up soon, immediately some steps have been taken to have aggressive patrolling.
The incident in January 8 in which two Indian Jawans - Hemraj and Sudhakar Singh - were killed and then their bodies mutilated was clearly a failure at tactical level. It was foggy hence the equipment like LOROSS would have been of lesser use. The LOROSS magnifies line of sight visibility with good sharpness.
That these two jawans meandered into a Pakistan Army ambush meant the patrol party and battalion has no information on any Pakistani Army's border action team having crossed the LoC and being present in Indian territory.
This shows lack of human intelligence to pick up the latest movements and be alerted on time. Lastly, the ambush took place between the barbed-wire fencing and the LoC, almost all equipment is located on Indian side of the fence.
Sources said apart from this, the equipping and movement pattern of Indian patrol parties is likely to change. They will be carrying more firepower and will have enough back up and a system of calling in fresh resources to take on enemy fire. Human intelligence has to play a big role and that has to be backed with top of the line surveillance equipment, sources added.
On January 14 the Army Chief had said "we are at looking at improving surveillance capability and ramping up human intelligence. We are revisiting doctrine and strategy and making it relevant and compatible".
Sources in the Military establishment said: "These are dynamic strategies and will be drawn up for the entire LoC". While one segment of the LoC might need conventional capability, other areas especially south of the Pir Panjal Range will need capability to fight asymmetric challenges like the one that reared its head on January 8.