M A I N N E W S
No hanging, but Verma panel wants
rapists jailed for life


Also rejects chemical castration in 630-page report


Seeks Bill of Rights for Women
Aditi Tandon/TNS


main Proposals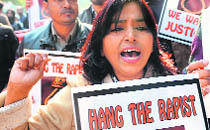 The panel, formed after outrage over the brutal Delhi gang rape, dedicated its report to the victim

The panel, which received 80,000 responses from the public, said existing laws enough to protect women, provided these are implemented


It suggests 20 years to rest of natural life as punishment for gang rape; rape causing death, vegetative state


It proposes to make trafficking a new IPC offence; eve teasing, stripping, stalking, voyeurism as serious sexual offences and marital rape illegal

After the Delhi gang rape I was shocked to see the Police Commissioner get a pat on his back from the Union Home Secretary. I would've sought an apology for my failure to
protect citizens. No DGP responded to our calls. The government should review their appointments. Civil society also failed in its duty towards Delhi rape victim. She kept lying naked on the roadside for hours, no one helped. — Justice JS Verma
Khaps can't outlaw marriages
We fail to understand the actions of extra constitutional bodies like khap panchayats which restrict people from choosing their life partners. How can khaps outlaw marriages born out of free choice? They can't.
Marital rape must end
Exception in our laws to marital rape must go. It stems from the belief that wife is property and her consent to sexual engagement with the husband a given once she agrees to the marriage. Marriage is now a relationship between equals where the wife is not subservient to the man.
— Justice Leila Seth
New Delhi, January 23
Seeking a dedicated 'Bill of Rights' for women to guarantee them the rights promised by the Constitution, the Justice JS Verma Commission today recommended sweeping changes to the criminal and electoral laws to ensure a safer society.
It rejected populist calls for death penalty and chemical castration of rape accused and proposed a new punishment — imprisonment for the rest of natural life. The commission, in its report submitted to Prime Minister Manmohan Singh today, clarified that no remissions or commutation should be applicable to convicts handed out such punishments, to be awarded in cases of gang rapes and rapes that cause death or persistent vegetative state of the victim as in the case of Aruna Shanbag of Mumbai. In such cases of heinous crimes against women, the commission proposed a minimum sentence of 20 years leading up to imprisonment for the rest of life.
"Overwhelming opinion was against death penalty. Also, we went by the modern global trend for abolition of death penalty. We have, however, mentioned minimum sentences for each case of sexual offence, and limited the discretion of courts to reduce minimum sentencing," Justice JS Verma, ex-Chief Justice of India and commission chairperson, said.
The panel received 80,000 responses to its public notice on the need to review sexual assault laws. It dedicated the report to the victim of the Delhi gang rape, which occasioned its constitution.
The Commission has for the first time proposed a new IPC offence on human trafficking prescribing minimum punishment of seven years rigorous imprisonment up to 10 years for traffickers of one person and 10 years RI up to life for those who traffic more than one person. For trafficking of minors, 14 years to life is the bracket of punishment suggested. Even those who employ trafficked children have been made liable with RI ranging from five to seven years.
Going beyond its brief to review current laws on aggravated sexual assault alone, the Commission has even appealed to MPs and MLAs charged with heinous offences to vacate their seats in deference to the public's mood besides recommending changes to the Representation of People's Act to disqualify politicians from their positions right when a court takes cognizance of the crime.
For the first time, the Commission has sought changes to the IPC to make marital rape illegal and introduces a range of non-penetrative sexual offences from eve-teasing and stripping to stalking and voyeurism. "We must recognise that rape is only the final stage," Justice Verma said.
An RI of three to seven years has been mentioned for stripping; one to three years for voyeurism ; one to three years RI for stalking.
Retaining the term rape, the Commission has clearly made it a gender specific crime clarifying that only a male can be a perpetrator, but victims can be gender neutral.
Definition of rape widened
In the section on rape -- 376 -- several new offences have been included. Section 376 (1) deals with rape whose definition has been enhanced beyond the current peno vaginal penetration to include penetration with any object or part of body of the person's mouth, anus or urethra. Rape has been made punishable with not less than 7 years RI going up to life.
Section 376 (2) deals with aggravated sexual assault where for the first time armed and security forces have been included with the Commission seeking an amendment of Armed Forces Special Powers Act to clarify that no prior sanction would be required to prosecute any armed personnel accused of rape or aggravated sexual assault which has been defined as assault by people in positions of authority or trust - police, public servants, remand home in charges, hospital staff; parents, guardians and teachers. This offence would be punishable with 10 years RI to life imprisonment.
Section 376 (3) has been introduced to cover the offence of rape which leads to death or persistent vegetative state which would be punishable with 20 years up to imprisonment for the rest of natural life. A new Section on gang rape - Section 376 (C) has been proposed with punishment of 20 years to the rest of life.
The commission has also introduced a new Section 376 F - the offence of breach of command responsibility wherein senior officers can be punished with not less than 7 years RI if they fail to ensure their juniors act according to law in registering rape FIRs and investigation.