M A I N N E W S
Badal group sweeps DSGMC poll
LANDSLIDE VICTORY: SAD secures 37 out of 46 Delhi gurdwara panel seats * Sarnas' reign ends
Syed Ali Ahmed/TNS
New Delhi, January 30
The Parkash Singh Badal-led Shiromani Akali Dal on Wednesday secured a landslide victory in the Delhi Sikh Gurdwara Management Committee (DSGMC) polls, ending the 11-year unbroken run of the Sarna brothers.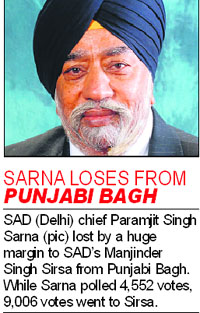 The SAD, supported by the BJP, bagged 37 out of 46 seats while the Congress-backed SAD (Delhi) claimed eight seats against its current strength of 28 seats.
SAD (Delhi) chief Paramjit Singh Sarna lost by the highest margin of votes to SAD's Manjinder Singh Sirsa from Punjabi Bagh.
"While Sarna polled 4,552 votes, 9,006 votes went to Sirsa," said GP Singh, Director of the Directorate of Gurdwara Elections.
While one seat went to Kendriya Sri Guru Singh Sabha (KSGSS), Dashmesh Seva Society (DSS) failed to open its account in the election. Congress MLA Tarvinder Singh Marwah, who contested the election on the KGSS ticket from Ward Number 2 of Defence Colony, polled 2,352 votes while his nearest opponent Tirath Singh of SAD (Delhi) could only muster 601 votes.
Keen contest was witnessed in some places such as Rajouri Garden where the SAD (Delhi) candidate Harpal Singh Kochar won with a margin of just 29 votes.
Besides Sarna, other heavyweights of the SAD (Delhi) who were routed in the elections are Bhajan Singh Walia, Kartar Singh and Shamsher Singh Sandhu. Interestingly, Gurmit Singh Shunty, who moved from the Sarna camp to join Badals, won from Karampura in West Delhi.
Among victorious senior SAD leaders are Delhi unit president Manjit Singh (GK), Manjinder Singh Sirsa, Avtar Singh Hit, Onkar Singh Thapar.
GP Singh said while the committee would have 46 elected members, nine members would be nominated. Of the nine nominated members, four will be head priests from Patna Sahib, Amritsar, Keshgarh Sahib and Anandpur Sahib. Among the five remaining members, one will be the representative of the SGPC, two will represent local presidents of registered Kendriya Guru Singh Sabha. The remaining two would represent the Sikh community.
The pro-tem chairman of the committee will be elected in a meeting to be held after 15 days. Thereafter, the elected members will elect the president of the DSGMC, the director said.
Sukhbir Singh Badal thanked the Delhi Sikh community for the party's thumping victory. "I am overwhelmed with the love and affection showered by Sikh voters of Delhi. We will fulfil every promise made in the manifesto," said Sukhbir.
Paramjit Singh Sarna hailed the SAD victory, but said: "The decision of the Sikh community in Delhi would damage Sikhi."
y SAD's aggressive campaign paid off y Sarna toppled by Sirsa man p5