M A I N N E W S
On death anniversary, Bapu's last fast comes alive in images
Tribune News Service
New Delhi, January 30
A rare collection of pictures, letters, postcards and telegrams from the period when Mahatma Gandhi — the man who gave the world the most powerful weapon of resistance or 'satyagraha' — went on fast for the last time in the winter of 1948 went on display at the Nehru Memorial Museum and Library (NMML) here to commemorate his 65th death anniversary.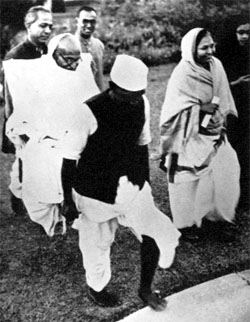 A rare picture of Gandhiji, 10 days before he was shot in January 1948, on display at an exhibition in New Delhi.
Titled 'The Weapon of Ahimsa: Mahatma Gandhi's Last Fast', the exhibition at Teen Murti House, the home of first Prime Minister Jawaharlal Nehru for 16 years, was inaugurated by Culture Minister Chandresh Kumari Katoch today morning in the presence of Nehru Memorial Museum and Library director Mahesh Rangarajan and scholars and fellows.
The 20 panels of text and visual prints depict various phases of the Mahatma's historic last fast-unto-death to bring peace and harmony to a communally-charged National Capital just days before an assassin's bullet put an end to his life. The fast resulted in a peace committee of all faiths giving a pledge to Gandhi to end all discrimination against minorities.
Spanning the period November-December 1947 to January 1948, the exhibition highlights Gandhi's belief that fasting was a spiritual act and served both as a means to genuine self-rule as well as a political tactic.

"Gandhiji called fasting the last weapon in the armoury of the votary of 'ahimsa' --when human ingenuity fails, the votary fasts. Statements signed by leaders, appealing to him to take care of his health, photographs and letters on display aim to evoke the important moment in the country's collective memory," says Rangarajan.
The panels also depict the reverberation of Gandhi's fast throughout the world, the impact it made on religious communities and political leaders through documents available with NMML archives and newspaper reporting on microfilm and photographs from photo archives.
The rare documents on display include letters from Sikh leader Bawa Bachittar Singh (dated January 14, 1948), AH Ghuznavi (dated January 17, 1948), Walter Dwyer (dated January 19, 1948), and Arthur Moore (dated January 15, 1948).
There are telegrams from the Nawab of Palanpur, Shah Mohd. Taqi Aziz Mia Sajjadanshin Khankahnaizia, Speaker of the West Punjab Assembly in Lahore and the Director of the Islamic Press in London, and messages from Sarojini Naidu, Stanley Jones and others. Medical bulletins by doctors attending on the Mahatma -BC Roy, MDD Gilder, Sushila Nayyar and Jivraj Mehta -- are also on display.
The rare collection from the repertoire of the Nehru Memorial Museum will be open to the public in the library building till February 15. Thereafter, it will be on display at the Nehru Museum.
Katoch also inaugurated an exhibition 'Gandhi-Kallenbach Papers'. Herman Kallenbach was one of the foremost friends and associates of Gandhi while he was working in South Africa.
A German-born Jewish architect, Kallenbach was greatly influenced by Gandhi's views on 'satyagraha' and donated his 1,000-acre farm near Johannesburg to him. The property was developed as Tolstoy Farm and housed families of 'satyagrahis' and became the laboratory for experimenting with Gandhian philosophy, simple lifestyle, vegetarian diet, social equality, politics and self-sustained economy.