Granthi accused of beating up wife
Tribune News Service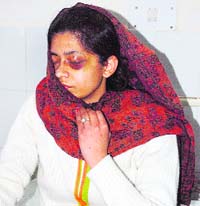 The victim, Surinder Kaur
Mohali, January 31
President of the Dharam Prachar Committee and Kalgidhar Sewak Jatha, Punjab, Bhai Jatinder Pal Singh is in trouble as his wife, Surinder Kaur, has accused him of thrashing her.
He is also the general secretary of the district unit of the Shiromani Akali Dal (Urban). The victim, Surinder Kaur was admitted to the Civil Hospital, Phase VI, with injuries on her right eye, hand and knees.
The family of the victim alleged that the police was favouring the SAD leader as it had not registered an FIR in the case so far. "We will initiate action once the medical report is out," said DSP RS Sohal.
Talking to Chandigarh Tribune, Surinder Kaur alleged that her husband beat her up with a pipe on Tuesday morning over a trivial issue.
"My husband has been assaulting me since our marriage. He has crossed all limits. On Tuesday morning, he started beating me up without any reason," alleged the victim.
Bhai Jatinder Pal Singh refuted the allegations. "She had suffered injuries 15 days ago. She had fallen in the washroom. I don't know why she (his wife) is implicating me," said Bhai Jatinder Pal Singh.
The victim's father, Prithpal Singh, and brother Jaspreet Singh alleged that it was not the first time that such incident had taken place. "My daughter is so scared of him that she did lodge a complaint against him," said Prithpal Singh.
Jaspreet Singh alleged that the police was not listening to them.
"When we went to the Phase I police station, several Akali leaders along with the station house officer were sitting there. It seems that the police is in no mood to register an FIR," alleged Jaspreet SHO Kamaljit Singh said he was not at the police station. "We have lodged a DDR and investigations are on," said the SHO.

Cricket: DAVs set for title clash
Tribune News Service
Chandigarh, January 31
The DAV School, Sector 8, cricket team will face DAV School, Amritsar, in the finals of State cricket Championship for the Coca Cola trophy.
In the two semi-finals, played here, the DAV School, Sector 8, registered an 8-wicket win over the Jalandhar team at their home ground, in the first match, while DAV School, Amritsar, beat Shivalik Public School, Ropar in the second semi-finals.
Winning the toss and electing to bat, the Jalandhar team was bowled out for 156 runs in 48.2 overs. Down with 63 for 6 in 23.4 overs, the team's innings was steadied by some sensible batting from Chirag Bawa and Damandeep Singh. The duo scored 65 runs for the seventh wicket, while Chirag Bawa scored 35 runs, Damandeep contributed 39 runs. For the bowling side, Bhagminder Singh took a five-wicket haul for 26 runs while Hemang bagged 3 for 21.
In reply, the openers Bhagminder Singh and Shubham chand of local team put on 59 runs for the first wicket in 12.2 overs. Bhagminder Singh contributed 42 runs and Shubham Chand scored 16-runs, before moving to pavillion.
Later, Vineet Dhakka and Abhimanyu Singha guided the team to victory with an unbeaten stand of 65 runs, for the 3rd wicket. While Vineet remained unbeaten on 56 off 58 with 9 boundaries, Abhimanyu Singha chipped in with 27 off 32 which included 3 boundaries. Bowlers Akshit and Sukhwant grabbed one wicket apiece.
Brief Scores:
City Public School, Jalandhar- 156 all out in 48.2 overs (Chirag Bawa 35, Damandeep 39 and Jasbir Singh 17, Himank 3 for 21, Bhagmender Singh 5 for 26, Raman Bishnoi 1 for 28 and Sagar Sharma 1 for 15)
DAV School Chandigarh-158 for 2 in 29.3 overs (Bhagminder Singh 42, Shubham Chand 16, Vineet Dhakka 56 not out and Abhimanyu 27 not out, Akshit 1 for 40 , Sukhwant 1 for 9).
In the second match, the DAV School, Amritsar, defeated Shivalik Public School, Ropar, by 8-wickets The Ropar team was bumdled out for 140-runs in 40.2 overs, after they won the toss and elected to bat first. For them Gurdeep (32) and Mannat (21), were the main contributers for the team, while for bowling side Karan Sharma and Abhinav took 3-wickets each. The Amritsar team scored 141 in 21.1 overs, while chasing the target. Marshal Bhagat (55) and Navneet Singh (47) scored unbeaten knocks . For the Ropar team, Gurdeep and Raghav claimed one-wicket apiece.
Brief Scores-
Shivalik Public School Ropar-140 all out in 40.2 overs (Gurdeep 32, Abhijot 13, Mannat 21 and Jagdeep 12 , Naman 13,Karan Sharma 3 for 16 and Abhinav 3 for 27).
DAV School Amritsar-141 for 2 in 21.1 overs (Karan Sharma 19, Abhinav Sharma 11, Marshal Bhagat unbeaten 55, Navneet Singh unbeaten 47, 1 for 35 , Raghav 1 for 22).