M A I N N E W S
Higher education on decline, must reverse trend: Pranab
Tribune News Service
New Delhi, February 5
Observing that the country is witnessing a decline in standards in the quality of higher education, President Pranab Mukherjee today said there is a need to reverse this trend and also make it available to people closer to their place of residence.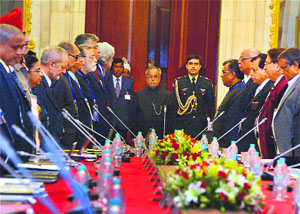 President Pranab Mukherjee at the V-Cs conference in New Delhi on Tuesday. — PTI
Inaugurating a conference of vice-chancellors of 40 Central universities, including Jammu, Punjab, Kashmir, Haryana and Delhi, among others here, the President said access to knowledge is fundamental in the country's bid to empower people. He noted that though India has the second-largest higher education system, gross enrolment in the country in 2010 was around 19 per cent, way below the world average of 29 per cent.
"We are witnessing declining standards in the quality of higher education in our country... much more needs to be done. We have to focus on quality of education imparted and the availability of opportunity to aspirants to pursue higher education near the place of their residence," Mukherjee told the conference, convened by the President after a decade in his capacity as Visitor of these Universities.
Among the major challenges, he said, was dearth of key talent for important academic and research positions in institutions of higher education as also regulatory architecture and quality of governance.
While endorsing that private sector be encouraged to participate by formulating appropriate policies without compromising on social objectives and quality benchmarks, Mukherjee said Central Universities must act as a catalyst in taking forward this policy and make the country a knowledge economy. As a way forward, he suggested, that universities be proactive in improving quality of faculty and also build a directory of grassroot-level innovators.
On his part, Prime Minister Manmohan Singh said the educational landscape has changed immensely since the last conference in 2003 and that fostering excellence in higher educational institutions is a critical challenge that needs to be addressed collectively.