Citizen activism gathering steam
Neha Saini
Tribune news Service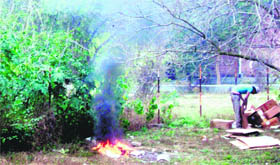 Amritsar, February 8
Taking to streets to protest, slogan shouting, candlelight marches, going for hunger strikes, speaking or writing to criticise any injustice, blowing whistle on media or any other portal or standing against something are a few ways of citizen activism.
The Jessica Lal case and Anna Hazare movement brought to the fore the power of one, where every individual mattered and changed the way things were.
And like all other parts of the country, Amritsar too has its own brand of citizen activists who decided to stand up for things they believed in and are busy working towards it.
Let's start with Robin Singh, a citizen activist from the holy city who has taken upon himself to be a savior of environment. Robin, who recently reported dumping of garbage and burning of non-biodegradable waste inside GNDU campus, has been there for the cause for over a year now.
"GNDU has a separate department for environment education and were the first ones to preach and set up eco care activities inside the campus. Even after the ban, there are various places in the city where thermocol and cardboard burning produces heavy smoke and no one looks into the matter," he says.
A volunteer for several NGO's in the city, Robin is not the only one. Indu Bhatia, a retired professor from Khalsa College found the activist in her about eight years back, when she first associated with a city-based NGO and started working on social issues.
The 64-year-old spirited activist has never looked back ever since. "I started working for environment related projects like water conservation, going to schools in the city to involve children in our activities. Later, I got involved in counselling and teaching young girls and women to make them self-reliant," she shares.
The daughter of a freedom fighter, Indu got inspired from home and her upbringing made her actively participate in society. She currently runs a centre where she gives vocational training to women from humble backgrounds.
"I always learnt that if every individual does their bit towards changing the society for good, the change is not far away. I do not work with women from underprivileged or suppressed backgrounds so that I get something in return. It's a responsibility that I chose to take," she says.
And while doing so, she has been able to prove that there is no age to bring about a change.
Another such example is Manpreet Kaur Doad. A student of architecture from the city, she has been an active member of several cultural and social NGOs.
"I am involved with a lot of volunteer work in Chandigarh, Amritsar and Jallandhar. I work to save the environment, preserve places of cultural importance and save our open spaces," she informs.
The 22-year-old from Amritsar doesn't believe in charity, but living responsibly. "It's not about cleaning up places and preaching activism only, but just taking note of the little things that we are losing out on with each passing day. Such as reclaiming our open spaces, using alternative methods to let the city take a break from increasing traffic and just lending a hand to those who take that first step forward," she says.
"We always praise cities like Chandigarh for their cleanliness, why can't we make Amritsar clean if we take it upon ourselves? Le Corbusier once remarked that citizens are the guardians of a city. If we have more civic sense and participate, ever social problem would have a simple solution. We need to develop a sense of involvement and set an example by taking proactive steps. Once we volunteer, the activism follows," she says.