Commuting a bane as chaos, congestion remain
Heavy traffic flow and lack of planning leave commuters caught in jams. In second part of the traffic series, Amritsar Tribune reporter Neha Saini and photographer Sameer Sehgal take the road from GNDU to reach Lawrence Road and give a detailed view of problems
Neha Saini
Tribune News Service

Amritsar, January 31
Some of the routes are commuters' worst nightmare. And one of these routes is the seven-kilometre stretch from GNDU to Lawrence Road. The road starting from GNDU stretches along Pultighar, Court Road and Mall Road, which are major commercial areas in the city and joins Lawrence Road, which again is a heavy traffic area.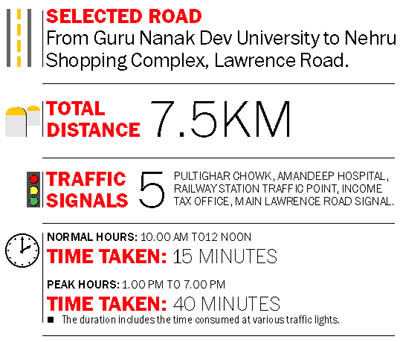 Tribune staffers travelled on 7.5-km stretch of GNDU-Nehru Shopping Complex road, during normal and peak rush hours to find out how the road was a commuters' nightmare. It took 40 minutes to cover the distance during peak traffic hours between 11am to 1pm and 4pm to 7pm as compared to the 15 minutes it takes during normal or slow traffic hours.
The route has several important hospitals schools and educational institutions on the way. The road is the busiest as it is a part of the Grand Trunk (GT) Road leading to the Wagah border and also has a number of important institutions like Chief Khalsa Diwan, Punjab Natshala, GNDU, Khalsa College and major medical facilities like Amandeep and Navdeep Hospital on the way.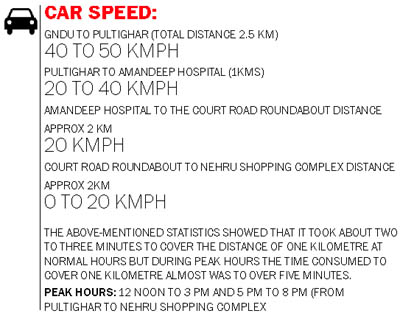 It is also one of the most popular commercial areas in the city with Putlighar being an important commercial complex. Apart from the regular commuters, a lot of tourist travel through the road on their way to Wagah border.
The road is not narrow, but fails to cope up with the heavy traffic flow and is prone to many accidents and traffic log jams. Traffic violations are frequent on road resulting in congestion and chaos. The 3 km stretch from GNDU to Pultighar has a total of 11 small crossings, which adds to the chaos as cross lane driving and wrong side driving are some regular violations.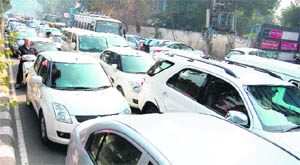 Mall Road:

Traffic comes to a standstill on Mall Road in Amritsar.
The cycle or pedestrian track, constructed along the road, at Pultighar commercial complex remain unused as all the cyclists, rickshaw pullers and other such vehicles prefer commuting on the main road thus further slowing down the traffic flow.
Haunted by illegal Parking of vehicles
A major portion of the road is also being eaten away due to illegal and unauthorised parking. The commercial stretch starting just ahead of Putlighar and extending till railway station traffic lights has become a hub of unauthorised parking, causing traffic jams. Since, the area has busy commercial activity throughout the day, long queues of four-wheelers could be seen especially during evening hours. "These vehicles cover the major portion of the road during peak hours thus creating big nuisance. Moreover, many vehicles can be seen parked on the road as their users go for shopping," says Rajiv Kumar, a shopkeeper from the area.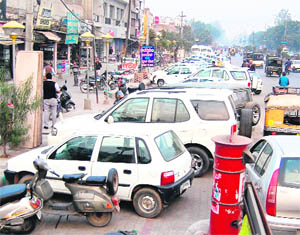 Putlighar chowk:

Illegal parking of vehicles on roads lead to chaos.
The story is no different at the Court Road roundabout where there are several eating joints and hotels where the vehicles can be seen parked any time without any check. The Mall Road stretch which has shopping and commercial complexes adds to the traffic chaos at various junctions. The problem is same, unauthorised parking.
No cycle or pedestrian tracks
Most busy routes in the city lack cycle tracks or pedestrian tracks. Major traffic congestion happens because heavy traffic routes lack separate cycle lanes or rickshaw lanes. But most think it as a waste of time and money.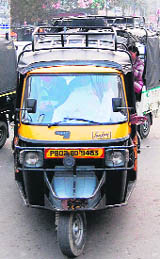 Pultighar Chowk:

Auto-rickshaws stop anywhere to pick up passengers.
What needs to be done?
According to several road users, the city badly needs overbridges or pedestrian lanes on major crossings. The scenario at the railway station crossing has gone worse. Also, open or underground parking spaces have become an absolute necessity. There is also need to set designated routes and timings for three-wheelers. These should not be allowed during peak hours or a separate lane be provided for them. Also, more traffic personnel should be deputed at the crossings to check traffic violation and wrong side driving.
Who is to blame?
No proper planning by the administration. Several local residents feel that the administration has failed to come up with proper traffic management and providing adequate parking facilities.
Choke points
Crossing in front of Khalsa College, Putlighar Chowk, railway station traffic lights, Court Road roundabout, Mall Road crossing (the road coming from Heritage Club), Nehru Shopping Complex.
officialspeak
Admits that there are some hiccups in the implementation of traffic management certain points in the city. "We have nakas placed at various heavy traffic points in the city to check violations. Also, to check illegal parking, we have deployed four tow-away vans in the area. We have also sent recommendations for yellow lines and pedestrian path for various areas to the corporation, but it is for them to implement.
Baljit Singh Randhawa, ADCP, Traffic
COMMUTERS speak


Since there is no provision for parking, we witness regular traffic jams in Putlighar. The administration should make underground parking in the area to create more space on the road for smooth traffic flow.
Preet Singh, owner, show store in Putlighar

Why the administration is not able to get solution for the nuisance? There are various tow-away vans for checking illegal parking in the area, but none has ever been seen operating.
Rajiv Kapoor, another shopkeeper in Putlighar

I think nobody is serious about traffic management in the city. The road users are being harassed every day. There is no stand for auto-rickshaws and lack of planning results in traffic jams. I prefer to walk to my home rather than take my car because of traffic hassles on the road.
Kewal Dhaliwal, theatre person, resident of Putlighar:

Parking should be regularised. There should be separate lanes for cycle and auto-rickshaws to clear the traffic jam during peak hours. Also, the traffic signal at Putlighar chowk often becomes non-functional, which leads to traffic chaos. Proper management of traffic signals, especially at heavy traffic areas, could give commuters some respite.
Sukhwinder Singh Randhawa, a commuter from Putlighar