M A I N N E W S
Defiant N Korea conducts 'miniaturised' N-test; sends US a message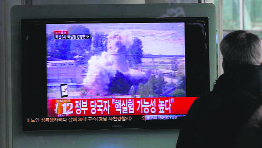 A South Korean man watches TV news showing footage of North Korea's nuclear test in Seoul on Tuesday. — AP

Seoul, February 12
North Korea today staged its most powerful nuclear test yet, claiming a breakthrough with a "miniaturised" device in a striking act of defiance to global powers, including its sole patron China.
The communist state said it had staged its third test with a "successful" underground detonation, in a riposte to what it said was US "hostility".
Its claim of miniaturisation suggests that it is a step closer to fitting a nuclear warhead onto a ballistic missile.
The confirmation from North Korean news agency KCNA came nearly three hours after seismic monitors detected an unusual tremor in the area of the country's Punggye-ri nuclear test site, close to the Chinese border.
Analysts said the timing appeared to be an attention-grabbing calculation from a state well versed in provocative acts, coming just ahead of US President Barack Obama's State of the Union address at the start of his second term.
North Korea's two previous tests in 2006 and 2009 triggered waves of UN sanctions, and the Security Council was set to meet in emergency session this morning in New York in response to the third detonation.
There was no immediate response from US or Chinese leaders, but Beijing had made its displeasure clear to the youthful Kim Jong-Un's regime in Pyongyang, a UN diplomat said.
"The Chinese gave the North Koreans a strong warning against carrying out a test as it became apparent that it was imminent," said the diplomat, speaking on condition of anonymity, labelling the test "a big challenge to the Chinese".
The test drew condemnation from Japan and UN chief Ban Ki-moon. The United States said only, via the office of the Director of National Intelligence, that its spy agencies were evaluating a "seismic event" in the Stalinist state. — AFP
North warns of 'second and third measures'
North Korea said its test was merely its "first response to US threats", warning that it will continue with "second and third measures of greater intensity" if the US maintains its hostility.