Tears, joy, resolve as 17 youths meet kin
Tribune News Service
Amritsar, February 12
It was an emotional reunion for 17 youths - who returned to India from the United Arab Emirates - with their families at the Golden Temple here on Tuesday.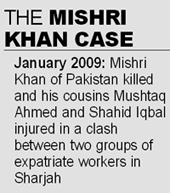 A majority of them met their families, who were camping in Amritsar since Monday evening, after a gap of five to seven years. The youths, facing death sentence for the murder of a Pakistani, were released by UAE authorities after they paid Rs 5.3 crore as blood money to the victim's family.
The youths — 16 from Punjab and one from Haryana — landed at New Delhi on Tuesday morning and reached Amritsar in the evening. Most of them are school dropouts who had gone to the Arab nation to augment their family's income.
Dressed up in a bright yellow salwar kameez, Ranjit Kaur from Jhoke Tehal Singh Wala village in Ferozepur district, screamed with joy after seeing her husband Dharampal Singh. She was accompanied by her five-and-a-half -year-old son. "It's for the first time that he (Dharampal) is meeting his son," she said.
Dharampal says he will now till his five-acre land to earn a living. "I went in search of greener pastures and avoided this easily available option (farming)," he said. He moved to Dubai in September 2007 after paying Rs one lakh to a Jalandhar-based agent to work as a carpenter. "The initial few months were okay. I used to earn Rs 15,000 per month. But soon the private company, which had hired me, ran into some trouble and I was rendered jobless," he said.
Tears rolled down the cheeks of Jaswinder Kaur of Kukrana village in Moga as she hugged her son Kuldeep Singh (28) after a gap of five years.
Holding her son's hand firmly, she said she would never allow him to travel out of the country for a job. Kuldeep said his first priority would be to clear the debt lakh his family had taken to send him abroad.
Kuldeep, also a carpenter, said he was fleeced by the private company that had hired him. "They had promised to give me Rs 12,000 per month, but they paid only half the amount," claimed Kuldeep.
Kashmir Singh of Rattu Ke Village in Tarn Taran says he wants to give his daughters a quality life. A skilled mason, he flew to Dubai with the help of a relative to increase his monthly income in 2007. His hopes, however, were dashed as the company where he was employed failed.
As many as 14 out of 17 youths were staying together in a villa when they were arrested on January 26, 2009. In total, 70 persons from different countries, including, India, Pakistan, Bangladesh, Sri Lanka, Nepal, were living together to curtail their expenses.