G R O U N D Z E R O
Trouble for India in the paradise
While maintaining a politically neutral approach on the Maldives, it is important that India uses all its clout to ensure the presidential election is free and fair and the situation stabilises.
Raj chengappa


From the air, the islands that make up the Maldives appear like a giant string of pearls strewn across the Indian Ocean. Comprising over 1,192 low-lying coral islands grouped into 26 atolls spread over an area of 90,000 square km, Maldives is perhaps one of the most geographically dispersed countries of the world. The glistening white sand beaches and brilliant blue lagoons make the Maldives archipelago a tourist paradise and an ideal holiday destination for Indians as it is just 400 km from Lakshadweep.
In recent weeks though, the island nation's bright sunshine and balmy weather has been clouded over by a political storm that threatens to spill on to Indian shores. On February 13, the Indian High Commission in Male, the capital of Maldives, had an unusual visitor seeking refuge: former Maldivian President Mohamed Nasheed. Stunned embassy officials were soon on the phone seeking Delhi's advice on how to handle the piquant situation. Nasheed was permitted temporary residence in the Indian High Commission while External Affairs Minister Salman Khurshid spoke to his Maldivian counterpart, Abdul Samad Abdullah, in a bid to sort out the tricky situation that India found itself in.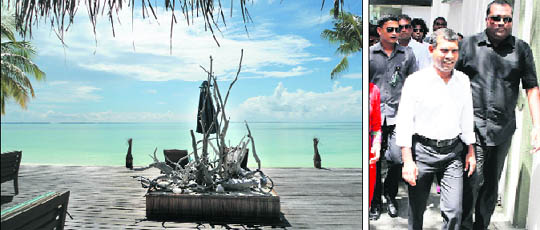 A resort on a Maldivian beach and former President Mohamed Nasheed walks to the Indian High Commission in Male on February 13.
The 45-year-old Nasheed was President of the Maldives for almost four years from October 2008 to February 2012 before he was deposed in what he claimed was "at gunpoint" when his political allies in the coalition government turned rivals and ousted him from power. A popular figure till then, Nasheed had made history when in the 2008 presidential elections he defeated Maumoon Abdul Gayoom, who had ruled the island nation with an iron hand for 30 years. Nasheed had earlier spearheaded a political campaign to ensure greater democracy for Maldives, which included a new constitution to protect individual rights, and had spent many years in jail as a "prisoner of conscience".
Nasheed now claims that the current Maldives President, Mohammed Waheed, who was his ally till his ouster in 2012, is plotting to file criminal charges against him to ensure that he becomes ineligible to contest the presidential elections to be held this September. Nasheed wants India to extract a guarantee from Waheed that he would be allowed to contest the elections and refuses to leave the Indian High Commission till such an understanding is reached.
Khurshid has been working the phones overtime but the current Maldivian government has maintained that the courts are independent and law would take its course. The only assurance they have given so far is that Nasheed would not be arrested if he comes out of the High Commission. India has conveyed to President Waheed that while it will not interfere in the political affairs of Maldives, it is keen that the coming elections be held in an atmosphere that is free and fair.
India correctly does not want to be caught in the internal crossfire and be seen to be supporting any particular dispensation or as the perennial big brother. India though is upset with the Maldivian government's abrupt December 2012 cancellation of the joint venture between Maldives Airport Company and a consortium headed by GMR Infrastructure (India) to renovate and expand the Male International Airport, the nation's largest and most important airport, at a cost of over $500 million. GMR has sought arbitration for compensation as a result of the cancellation and the matter is now being heard by a Singapore court.
While cancelling the GMR contract signed in 2010, when Nasheed was President, the current Maldivian government accused him of having a "sweetheart deal" with the Indian infrastructure giant. Both GMR and the Indian government denied any such nexus and pointed that the entire bidding process was handled by the International Finance Corporation and the Indian company won the bid fair and square. Realising that the ruling dispensation was whipping up anti-India sentiments, Delhi decided it would be best if the matter was settled by the arbitrating court.
For India, Maldives straddles a geo-strategic zone of the Indian Ocean that is vital to its maritime security. It has always enjoyed close relations with Maldives and in 1988, when there was a coup against President Gayoom, India swiftly responded to his plea and apart from sending naval ships flew in troops to oust the rebels and reinstate the government. India is currently one of the Maldives' largest investors and has also extended generous credit facilities of over $ 100 million for the country's development. Of late, India has been concerned with China's moves to make inroads into this island nation and has stepped up assistance.
The current crisis will test all of India's diplomatic skills. While maintaining a politically neutral approach, it is important that India uses all its clout to ensure that the presidential election is free and fair and the political situation stabilises. Even China and the US are on the same page with India on this issue — nobody wants trouble in the paradise.