Missing cop's body found at Dhaula Kuan
Tribune News Service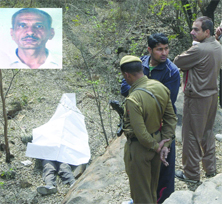 The Delhi police personnel stand near the body of the constable (Inset) at Dhaula Kuan in New Delhi on Saturday. Tribune photo

New Delhi, February 23
The body of a 48-year-old Delhi police constable, who had gone missing four days ago, has been found in mysterious circumstances in the Dhaula Kuan area under the jurisdiction of Delhi Cantonment police station, police officials said today.
A native of Jind in Haryana, Suresh Singh's body was found in a forest located in the cantonment area around 10 am today in a decomposed state.
The police said that prima facie, Singh was given some poisonous substance which led to his death. No injury marks were noticed in his body.
Singh was posted with Anand Parbat police station. He had been missing since February 19.
The police said that the incident came to light this morning when a passerby spotted the body lying in the southwest Delhi's forest and made a PCR call in this regard.
The police said that on February 19, Singh was sent to President's Estate where he had to collect some departmental documents.
The police said that when Singh did not return to the police station by 4 pm, senior officers telephoned him, but his cell phone was switched off. His number was then put on surveillance and the location was traced to the Dhaula Kuan area of southwest Delhi.
The police said that on the same day, a missing report was registered with the Anand Parbat police station.
The body has been sent to a nearby hospital for postmortem that will establish the exact cause of his death. It is yet not clear whether he committed suicide or was killed. The police has been investigating the matter with all possible angles. Singh is survived by his wife Kamla (40), a daughter Suman (20) and son Praveen (16).