CM's winter sojourn to Kangra postponed
Kangra, February 23
Chief Minister Virbhadra Singh, who was scheduled to visit Kangra district on his winter sojourn from February 25 to 28, has postponed his programme for some administrative reasons.
BJP splits 3 big districts for better management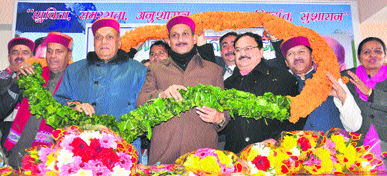 Shimla, February 23
Despite senior leaders having serious reservations, the BJP today went ahead with its decision to split bigger districts like Kangra, Shimla and Mandi into organisational districts for better management.
State BJP president Satpal Satti with former Chief Minister PK Dhumal, national general secretary JP Nadda and secretary Shyam Jaju at a meeting in Shimla on Saturday. Photo: Amit Kanwar

Ramdev gets BJP backing, his programme remains unchanged
Shimla, February 23
Even as the state government and the Patanjali Yogpeeth Trust prepare for a legal battle ahead, Ramdev's meeting at Solan scheduled for February 27 can well turn into a major protest rally with the BJP announcing that it will back the yoga guru.
Chandigarh-Mandi-Manali highway to be upgraded
Shimla, February 23
Chief Minister Virbhadra Singh today said National Highway No. 21 (Chandigarh-Mandi-Manali) would be upgraded to four lanes by the National Highway Authority of India (NHAI).
We are prepared to fight swine flu: Kaul
Shimla, February 23
Health Minister Kaul Singh Thakur today said the government was fully prepared to tackle the incidence of swine flu in the state and all districts had been provided adequate supply of medicines.
Anil Sharma's swearing-in called off at last minute
Shimla, February 23
The induction ceremony of Anil Sharma, son of senior Congress leader Sukh Ram, scheduled for today, was called off late last night. Invitations from the Raj Bhawan had also been sent out for the ceremony to be held at the Raj Bhawan at 3.30 pm today. Even though there were two vacancies in the Cabinet, it was only Sharma, MLA from the Mandi Sadar Assembly constituency, who was to be inducted.
Plantation must to curb soil erosion: Minister
Chamba, February 23
To curb soil erosion in the fragile hill slopes, efforts will be made to carry out plantation programmes for the conservation of hill slopes in the state. Himachal Pradesh Forest Minister Thakur Singh Bharmouri stated this while presiding over a public grievances redressal meeting at Bharmour, the tribal sub-divisional headquarters today.
School alumni submit memo to DC
Mandi, February 23
The Old Vijay High School Association today submitted a memorandum to the Deputy Commissioner (DC), Mandi, urging him to restore, protect and preserve the wooden buildings as heritage buildings that can house a museum or an art gallery.
Cong refutes Anurag's charge
Hamirpur, February 23
District Congress president Sunil Sharma has refuted Anurag Thakur's allegation that certain Congress leaders had helped him in the elections.
Father, son die in car-truck collision
Palampur, February 23
Two persons were killed and three others injured when a private car they were travelling in was hit by a truck on the Palampur-Pathankot highway, near Mamoon, last night.
Rs 3.09 crore spent on Chamba tourism
Chamba, February 23
The state government has spent Rs 3.09 crore, under the centrally sponsored funds, for the development of tourism infrastructure in Chamba district, thereby boosting the tourism industry of the Dalhousie-Chamba-Bharmour circuit.
IAS postings
Shimla, February 23
The government today posted Manisha Nanda, Principal Secretary, Language, Art and Culture, as Principal Secretary, Printing and Stationary. The charge of Language, Art and Culture has been given to Maneesh Garg, Secretary, Finance. Vineet Kumar, Additional Principal Conservator, Forest, has been appointed Managing Director, HP Forest Corporation. — TNS