RLA says no to old registration numbers
Chandigarh, February 24
Proud owners of vehicles with old registration numbers have now lost the privilege of using these on new expensive high-end cars or sports utility vehicles (SUVs).
Check this out: A party on cricket ground
Chandigarh, February 24
The Sunday evening friendly cricket match between the IAS officers of Punjab and Chandigarh at the Sector 16 cricket stadium, witnessing the top officials savouring liquor on the ground, has courted a controversy.



Liquor being served at the Sector 16 cricket stadiumin Chandigarh on Sunday. Tribune photos: Pradeep Tewari




Rail Budget: A modern railway station envisaged
Chandigarh, February 24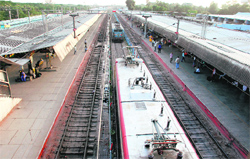 In the upcoming Railway Budget, the authorities are hopeful of getting a green signal to a number of projects. The authorities have mooted a new look for the city railway station. As per one of the proposals, eight rooms to accommodate the administrative staff are to be constructed on the Panchkula side. Railway officials said of the eight rooms, four will be used as waiting rooms, two each for passengers in the general category and those travelling in first class.
Harrowing time for passengers
Chandigarh, February 24
It was a harrowing time for over 30 passengers at the Chandigarh airport.
Rose Festival a gala affair
Chandigarh, February 24
The third and the final day of the Rose Festival witnessed a huge turnout.



(1) After the second day of Rose Festival saw the cancellation of several competitions due to rain, the third and the final day of the festival witnessed a huge turnout. (2) A girl walks a tightrope during the Rose Festival at Sector 16. (30 Visitors get their pictures clicked at Rose Garden. Tribune photos: Pradeep Tewari

Liquor prices go down as licensees resort to panic sale
Chandigarh, February 24
With just over two months left for the financial year to end and liquor licensees yet to sell 40 per cent of the allocated quota, the licensees in the city are resorting to panic sale.
Rs 2.76 cr sought from GMADA
Mohali, February 24
To minimise water shortage during the summer season, the Department of Water Supply and Sanitation has sought Rs 2.76 crore from the Greater Mohali Area Development Authority (GMADA) to raise the functional efficiency of the Sector 57 waterworks.
Mega mock drill in tricity turned out to be a near disaster
Issue: Despite spending Rs 1.3 crore, employing more than 5,000 persons and after taking more than a year and a half to prepare for the mock drill on Febriary 13, glaring gaps in the mega drill, exposing the lack of coordination, planning and execution in case of a real time eventuality. What actually needs to be done to gear up for a real disaster.



A team of the National Disaster Management Authority conducts mock drills at Government College, Sector 42, Chandigarh. file photos
1.37 lakh children to be administered polio drops
Mohali, February 24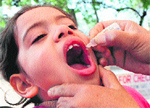 Over 1.37 lakh children between the age of 0-5 years in the district would be administered during the three-day pulse polio drive, commenced here.




Polio drops being administered to a child on Sunday. Tribune Photo: Parvesh Chauhan
Experts dwell on brain infections
Chandigarh, February 24
On the second day of the Continuous Medical Education (CME) Programme, there were several experts from the Advanced Pediatric Centre, PGI, who spoke about common day-to-day issues that concern Pediatricians and parents.
Police team sent to Bathinda to trace missing family
Mohali, February 24
The three-member family of Phase 4, which has gone missing from their residence for past few days after leaving a suicide note, is said to be alright.
Residents protest against assn
Chandigarh, February 24
Residents of Colony No. 4 protest against the Resident Welfare Association (RWA) of the area for stopping children to play in a park. The protesters blocked the main road near the colony.
Brawl: Golf clubs recovered
Chandigarh, February 24
The police today recovered the golf clubs that were used during a brawl that took place on February 16 at the Chandigarh Golf Club in Sector 6.
Close shave for four youths
Panchkula, February 24
Four youths escaped unhurt after their car turned turtle near old Panchkula this afternoon. The youths, between 20-25 year of age were going from Ambala to Kalka, when their car overturned near old Panchkula.


(1) Artistes from Himachal Pradesh perform on the concluding day of Rose Festival at Rose Garden in Chandigarh on Sunday. Tribune photo: Pradeep Tewari (2) The bhangra team of Khalsa college, Chandigarh, perform during a cultural fest organised by the Punjab Welfare Cultural Society at Sector 68, Mohali, on Sunday. Tribune Photo: Vicky Gharu (3) A broken pole leans precariously on a traffic signal at the Sector 45/50 lights posing danger to commuters in Chandigarh on Sunday. Tribune Photo: Parvesh Chauhan
MEd to be discontinued at Dev Samaj college
Chandigarh, February 24
Panjab University (PU) Syndicate, after a long debate, gave its nod to the discontinuation of the MEd course at the Dev Samaj College of Education, Sector 46, from the coming academic session.
Change in nomenclature for PhD students at PU
Chandigarh, February 24
As per the new nomenclature adopted by the Panjab University Syndicate, PhD students, after two years of registration, will be designated as senior research scholars.
ncert classes XI & Xii
Bloopers besiege bio books
Chandigarh, February 24
The stomach has only three major parts… Duodenum is U-shaped… Our lungs remove 18 litres of carbon dioxide per day.