Murder case of Patiala Mayor's 'daughter-in-law'
Clamour for Mayor's ouster grows
Not only oppn Cong councillors, his detractors in the SAD too have been demanding his replacement
Umesh Dewan
Tribune News Service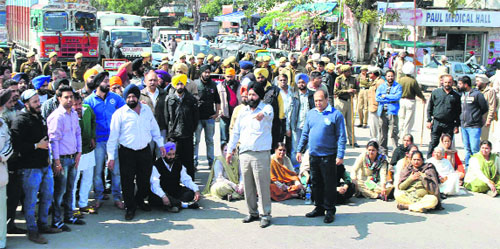 The victim's relatives during a protest in Patiala on Sunday
Patiala, February 24
With Patiala Mayor Jaspal Pardhan booked for murdering a 29-year-old, Parampreet Kaur, his detractors have started lobbying for his ouster. His rivals have swung into action and are trying to convince the Shiromani Akali Dal (SAD) leadership that Pardhan's continuance as Mayor will send a "wrong" signal among the party's supporters.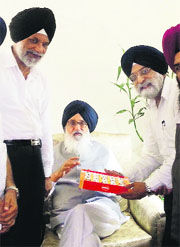 A file picture of Jaspal Pradhan offering sweets to Chief Minister Parkash Singh Badal after his election as Mayor. Cabinet Minister Surjit Singh Rakhra is also seen. Tribune photo
Rural Development and Panchayats Minister Surjit Singh Rakhra had played a key role in helping Pardhan secure the top post after the Patiala Municipal Corporation elections last year.
Pardhan was appointed Mayor on September 17 but within couple of months, his relations with Rakhra got strained. Had the Rural Development Minister been standing by his side, things could have been different for Pardhan in this hour of crisis, say political analysts. SAD spokesman Daljit Singh Cheema said, "Party president Sukhbir Badal is examining all aspects related to the case. Once the exercise is complete, he will decide whether Pardhan should continue as Mayor or vacate the post."
Though none of the local Akali leaders are willing to speak on record, party insiders say in case the SAD high command asked Pardhan to tender his resignation on moral grounds, Amarinder Bajaj and Ajit Pal Singh Kohli were the likely names that may be considered for the Mayor's post.
While Kohli is the former Mayor of Patiala, Bajaj is a two-time councillor. Both the leaders had lobbied for the coveted post earlier as well, but had lost the race to Pardhan. A three-time councillor, Pardhan was one of the frontrunners for the mayoral post in 2007, but he was then outwitted by Kohli, son of former Punjab Minister Surjit Singh Kohli.
A Patiala-based SAD leader said, "We had been maintaining since day one that Pardhan is not a good choice for the post. Within five months of his appointment, he has got embroiled in a major controversy and has left the Akali Dal embarrassed." The leader of opposition in the local civic body, Sanjeev Bittu, has demanded that Pardhan should not only quit on moral grounds, but should also be arrested without any delay.
"A person accused of heinous crime should never be allowed to hold the Mayor's post. The incident has also once again vindicated the Congress' stand that Akalis have been abetting crime," he claimed. The complainant has alleged that his daughter, who is Mayor's "daughter-in-law" from his second marriage, was assaulted, strangulated and later poisoned by the accused. The police was yet to arrest the Mayor, though two arrests have been made ion the case.
In eye of storm

Patiala Mayor Jaspal Pardhan has been booked for murdering a 29-year-old woman, Parampreet Kaur

The victim is said to be the wife of his son from his "second marriage", though Pardhan refuses to acknowledge the relation
Once a Rakhra aide

Pardhan was once considered close to Rural Development and Panchayats Minister Surjit Singh Rakhra

Rakhra, in fact, played a key role in helping Pardhan secure the Mayor's post

But within a couple of months of his appointment on September 17 last year, Pardhan fell apart with Rakhra

Party insiders say had the Mayor been enjoying Rakhra's support, things could have been different for him in this hour of crisis
Who next if he quits?

In case the SAD high command directs Pardhan to quit on moral grounds, race would hot up for the Mayor's post

Though there are several contenders, Amarinder Bajaj and Ajit Pal Singh Kohli would be the frontrunners

While Kohli is the former Mayor of Patiala, Bajaj is a two-time councilor

Both of them were in the race last year as well but had lost to Pardhan, a three-time councilor

Jaspal Pardhan was one of the frontrunners for the mayoral post in 2007 but he had then lost to Kohli, son of former Punjab Minister Surjit Singh Kohli
"SAD chief Sukhbir Badal is examining all aspects related to the case. Once that's done, he will decide whether Pardhan should continue as Mayor" — DS Cheema, SAD
"A person accused of a heinous crime like murder should not be allowed to hold the Mayor's post. Our stand on Akalis abetting crime stands vindicated" — Sanjeev Bittu, Congress councillor in Patiala MC