The cost of living
The cast of upcoming Hindi film Saare Jahaan Se Mehnga is new, but finds an able leader in veteran actor Sanjay Mishra…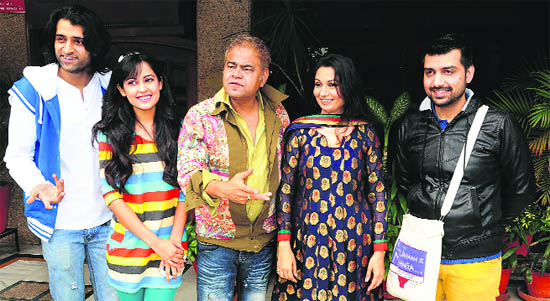 script bound:

(L-R) Ranjan Chhabra, Disha, Sanjay Mishra, Pragati Pande and Anshul Sharma Photo: Parvesh Chauhan
It's an ode to inflation and a film that celebrates the script - a plot where Shah Rukh Khan is not the hero but someone among the masses! Upcoming Hindi film Saare Jahaan Se Mehnga, may not have everything going for it but at times, doing things low-key could be the answer to all the promotions and that's what they seek refuge in. Together, the team raises a toast to the situational comedy and the casting during an interaction in Chandigarh on Wednesday.
A story in every step
When Rajashree Shirke along with her troupe presents a story from our rich Puranas, it is as if the time stands still. Young girls don the role of Krishna, Arjun or Karan and tell a tale in a fierce manner, which is still very much relevant to today's times!

Anupam's Oscar moments
Anupam Kher attended the Oscars and had a ball bonding with the winners, nominees and different film personalities. He talks about movies, Ang Lee, Jennifer Lawrence and more.
Hrithik shoots despite pain
Hrithik Roshan, the professional that he is, gives his job the highest priority. Even physical pain cannot keep him from meeting his deadlines. Recently the actor was in Bali to shoot for an advertisement campaign and the shooting included sky-diving. He was shooting for a soft drink brand for which he is the brand ambassador. During this shoot, the old chronic pain in his knee returned and he was temporarily immobilised.
Identity issue
Parineeti Chopra loves Priyanka Chopra. But Parineeti is somewhat wary of her star-cousin's name being mentioned every time whenever she is being discussed.
Sabyasachi walks out of Ram Leela
Eccentric and acclaimed designer Sabyasachi Mukherjee was supposed to design the elaborate outfits for the leading lady of Ram Leela. He walked out of the movie because of creative differences with Sanjay Leela Bhansali who is equally eccentric.
Rustic palette
The online art gallery Ocher Art exhibits about 90 artworks of artists from across the country
Indian art has indeed travelled through the barriers of time and has framed a rather glorious montage for itself. If you were wondering what other possible platform could the regional art be mounted on, here's a city-based curator and artist, Baani Sekhon, who delivers a peek at the regional art through a fancy online art gallery—Ocher Art. The exhibition about the same beautifies the walls of the Museum Art Gallery, as these adorn as many as 90 artworks of various artists hailing from across the country.
Young guns
Lights, camera, marvel! A 30-minute documentary North India's Young Achievers based on 10 short-listed young achievers from 100 schools in the North is one such glorious moment to savour. And this is just the beginning!
Canvas of hope
Magma Fincorp, a retail asset finance company, as part of their CSR programme organised its 3rd edition of its painters' workshop in Chandigarh. The initiative aimed at promoting and encouraging art and upcoming talents. Suryakant Mishra, associate vice-president, Magma Fincorp Ltd was present for the workshop.
Divine collection
Picture the beauty of filigree against the backdrop of ancient temples. There are many things that the yellow metal lends itself to, inspiring all the more. The collection, by Art Karat, as the name suggests, is inspired by some of the most beautiful temples of India. It draws from the motifs on the divine sculptures at the temples of Khujuraho, Konark, Tirupati and Tanjour.
Master Chef
The red, the hot, and the chilli!
They are here again--the glistening, glossy red beauties! When our son was a mere toddler, he was so enamoured with a jar full of red chilli pickle that he'd repeatedly point one stubby finger towards the shelf, asking to be fed the fiery stuff. It became a regular tantrum till I relented. Hold you breath, readers! I sat my little one on the carpet, the jar of pickle on the left, and the sugar pot on the right.
GET PHYSICAL
Knee guard
The knee is the largest joint in the human body and is very complicated. Our knees too often become our weakest link when it comes to our joints, because they carry so much of our weight and do a lot of the work. But we really can strengthen and protect our knees by combination of strengthening exercises and healthy diet.

Jewel in the crown
Satinder Sartaaj is passionate about his songs. And each note is imbued with this passion…
He takes his craft rather seriously; dressed immaculately in bright kurta salwar with a matching turban in place, Satinder Sartaaj is all eager to share notes on his album Afsane Sartaaj De in Chandigarh on Wednesday.
Written in luxury
The market for luxury pens is expanding with each passing day...
It's a pen that can be used both on paper as well as your touch screen phone or tab. The new collection of luxury pens from Monte Verde indeed offer a varied choice, where subtle innovations have lured people into spending big time on them. And things are just getting better with the ever-expanding market for luxury pens.

Nargis says no
Punit Malhotra offered Nargis Fakhri a special song in Gori Tere Pyar Mein and Nargis was thrilled because it is a Dharma film starring Kareena Kapoor Khan and Imran Khan. However, she had to pull out of it because it clashed with the dates for Madras Cafe. Better luck next time!

SPECIAL OFFER: Punit Malhotra
Sonakshi sizzles
Sonakshi Sinha plays sexy and naughty in her first-ever item song in Himmatwala's remake. Her look is similar to that of Reena Roy. She is wearing a silver gown and a headband and the set has all things from the 1980s like disco balls, dancers, and movie posters.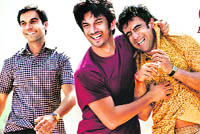 Money makers
Kai Po Che has already raked in more than Rs 16 crore at the box office and is doing very well, especially in the metros and multiplexes. Zilla Ghaziabad is a film for the masses and has raked in more than Rs 10 crore already. Word of mouth publicity and good reviews have helped Kai Po Che.

The cast of Kai Po Che
Costume party
Deepika Padukone dressed as Leela from Raam Leela at Sanjay Leela Bhansali's birthday bash. She looked elegant in a vintage-type white saree and hair pulled up. She spent two hours at the bash and then went back to Wai to resume shooting for Chennai Express. Now that is dedication.

Blackberry boy
Bollywood's favourite chocolate boy and lover boy Ranbir Kapoor loves the Blackberry and uses it to stay in touch with his family, friends, and girlfriends and 'special friends'. He is now the ambassador for the brand and recently launched the new Z10 phone.

Tech talk: Ranbir Kapoor
chatter box
Casanova's confession
Karan Wahi has a rather good fan base, the majority of which are women. The handsome guy, who has been hosting Nach Baliye, enjoys flirting with women and anchoring as well.
The year ahead
If your birthday is February 28...
The year 2013 will be average for you. Egoistic clashes will come forth by the year end, which will lead to bitterness in relationships with your family members. There is satisfaction professionally and skillful assistance will prove fruitful. Your competitive spirit will outshine your ability amongst all. If you are planning to switch your job, this is the time.
Astro Turf
ARIES: Love life will be a little difficult to handle. Now is the time to try your luck in speculative deals. Those employed will be burdened with additional responsibility without incentive.