'Varsities, industry should join hands for jobs'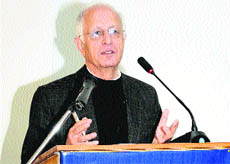 Dharamsala, February 27
Universities and industry in the country should come together to increase employment facilities and improve research facilities. This was stated by Arun Maira, Chancellor of Central University Himachal Pradesh (CUHP) and member of the Planning Commission, in an interview with The Tribune here today.



Arun Maira, Chancellor, CUHP

CPM seeks probe into housing project allotment at Kanlog
Shimla, February 27
The CPM today demanded that officials from the Union Ministry of Forest and Environment, who had granted permission to Bemloe Construction Company for building high-end cottages, should also be brought under the scanner.
Work on Shongtong-Karcham project takes off
Shimla, February 27
Work on the 450-MW Asian Development Bank-funded Shongtong-Karcham Hydroelectric Project on the Sutlej in Kinnaur district finally got underway with Managing Director, Himachal Pradesh Power Corporation, DK Sharma performing the first blast at the head Adit-II of the head race tunnel.
Gujarati students attend 6-day adventure camp at Dalhousie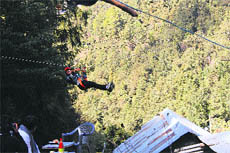 Dalhousie, February 27
The Youth Hostel, Dalhousie, organised a six-day adventure programme for students of the CKSV Institute of Management from Vadodara in Gujarat from February 21 to 26 in which 44 students, including 19 girls, participated in activities like rappelling, river crossing and trekking from Dainkund to Joth and Kalatop to Dalhousie.

Gujarati students perform river crossing in a valley in the Dalhousie hills.

Another woman tests positive for swine flu
Shimla, February 27
With another woman of the Arki area of Solan district testing positive for swine flu, the total number of cases that have so far been reported in the state has risen to 23.
Environmentalists protest govt move
Nurpur, February 27
A special police force comprising 31 police personnel, which was deployed about a fortnight ago to guard the Chakki riverbed in the lower Kangra district to check illegal mining, has been withdrawn.
Oscar Fernandes addresses new legislators
Shimla, February 27
All-India Congress Committee general secretary Oscar Fernandes addressed the newly elected legislators of the 12th Himachal Pradesh Legislative Assembly on the second day of the orientation seminar being organised at the Lok Sabha Secretariat in New Delhi.
Arjun is Nurpur BJP chief
Nurpur, February 27
A meeting to elect president of the newly carved organisational Nurpur district of the BJP comprising Nurpur, Jawali, Indora and Fatehpur Assembly segments was held here yesterday. Arjun Singh, who had contested the recent Assembly election from the Jawali constituency, was unanimously elected president of the district.
Sukh Ram's son likely to be inducted in Cabinet
Shimla, February 27
Anil Sharma, son of former Telecom Minister Sukh Ram, may finally be inducted into the Cabinet shortly, while aspirants for other ministerial berth and post of chief parliamentary secretaries will have to wait for some more time.
Rs 2.77-cr tax evasion racket busted in HP
Mandi, February 27
Mandi Excise and Taxation sleuths today busted a big tax evasion racket worth Rs 2.77 crore under the provisions of the Himachal Pradesh, Value Added Tax (VAT) Act, 2005, nailing M/s Harvell Agua India Pvt Ltd, Nagchala, a major horticultural and agricultural distribution company. The firm is empanelled to supply pipes and sprinklers to the Agricultural Department in the state since 2009.
Paramjeet is co-opted member of civic body
Dalhousie, February 27
The state government nominated Paramjeet Singh co-opted member of the Dalhousie Municipal Council this week, an official communiqué said here yesterday.