Today is International Women's Day

'Women should be confident to speak their mind and tackle situations in life'
Neha Saini
Tribune Mews Service
Amritsar, March 7
As the United Nations (UN) celebrates this Women's Day with the promise to end violence against women, it seems it is faced with a daunting task.
As the social status of women more or less remains same throughout, the problem is as local as global. As we talk to some mothers and daughters in the city on what they consider could be the best way to stand up for oneself, and the significance of the day, we try to prove a point. Only a woman can save a woman.
Jyoti and Jasmine Bawa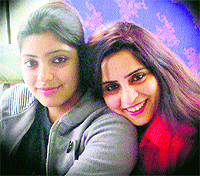 Jamine Bawa (left) with her mother Jyoti Bawa

Jyoti Bawa, 42, general secretary of the Punjabi Samvaad, a cultural NGO that has been working to create awareness on women-centric issues like female feoticide, doesn't believe in boundaries unless for the better. Her relationship with her daughter Jasmine, 22, is of a friend and then a mother. But the social counsellor does believe that girls should be bold but not brash. "It is one thing to be bold, and another to be overconfident. We hear all these incidents and crimes reported against women everyday. It makes it necessary for girls to protect themselves. I believe that women should be confident enough to speak their mind and tackle situations in life as expected but also know their limitations. I don't believe in the idea of gender bias but also feel that in some situations it becomes important to back off a bit. Limitations are necessary."
Her daughter Jasmine, agrees, "My mother has been my friend for long now. I have been brought up to believe that I can take care of myself, strongly believing in myself. But also to say 'no' when required. I think women should be bold enough to assert their opinion but also know when to avoid a situation."
Kiranjot Kaur and Dr Rajinder Kaur
For a family where breaking the norms runs in the blood, Dr Kiranjot Kaur is happy to carry forward traditions set by her mother, late Dr Rajinder Kaur, member of the Rajya Sabha and prominent political figure of Punjab in the 80s. Growing up in the shadow of a mother who was strong, upright and brave and inspired by her persona, Kiranjot believes every woman needs to adopt these qualities to be able to fight for herself. "Women have long been victims, but I believe that their situation has changed for better. Despite some incidents, women have been able to change the mindsets of many. Sensitivity towards their issues has increased and it's happened because they were able to demand their rights. They are more confident, strong and successful." Brought up in a non-ritualistic environment and strong feminist values, Kiranjot Kaur propogates that Women's Day would probably make more sense when women stopped depending on others and stand up for their rights and status.
Dalbir Kaur Madaan and Gurrein Kaur
To preach and practise could be the key to making a strong, independent and empowered woman.
That's what Dalbir has taught her daughter Gurrein and tells other women in need of advice. "I have always told her that she is an individual, with equal say in her life and right to make choices that she would take responsibility for. I never belived in clichés for women, and that's what I taught her as well."
Gurrein seconds her opinion, "One qaulity that I have learnt from my mother and is applicable to all women around the world is resilience, the never-breaking spirit and hope for a better tomorrow. One might be discriminated against because of gender, but a strong spirit would never let us down," says Gurrein, who would turn 18 this June.