Devotees seek rail link between all Takhts
Amritsar, February 27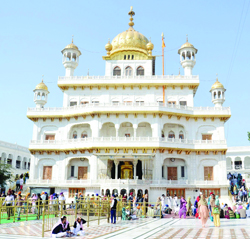 Union Railway Minister Pawan Kumar Bansal may have brought Takht Damdama Sahib on the rail map of the country by announcing the rail link between Rama Mandi and Maur Mandi, the other two Takhts in Punjab, Akal Takht in Amritsar and Takht Keshgarh Sahib in Anandpur Sahib, are still awaiting rail connectivity between each other. Amritsar, where Akal Takht is located, has rail connectivity with Takht Shri Patna Sahib in Bihar and Takht Shri Hazur Sahib in Nanded, Maharashtra, but there is no direct train between Amritsar and Anandpur Sahib.
The Akal Takht in Amritsar. A Tribune photograph

Union Budget: Residents expect some relief
Amritsar, February 27
A day before the release of the Union Budget 2013-14, residents of the city from various walks of life have varied expectations. The zero-tax slab, which is at Rs 1.80 lakh, must be raised to Rs 3 lakh to give respite to the working class, said Arvind Bajoria, an employee. He stressed that in the contemporary unpredictable time there was a greater need of the government to exercise control over the prices of the essential commodities. He said hike in prices of these commodities would pinch families of the low income groups the most.
Searching for ways to control crime against women
Amritsar, February 27
About 70 papers were read during a national seminar on 'Towards curbing discrimination and crime against women' at DAV College here today. The UGC-sponsored seminar was organised by the faculty of social sciences at the college.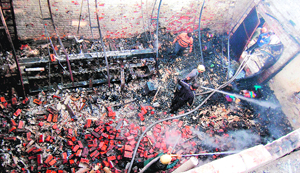 Knitting factory gutted: A knitting factory was gutted in the fire causing damage to cloth worth Rs 25 lakh. Factory owner Harpal Singh Walia accused his former employee, identified as Mintu, of setting the factory ablaze. Six fire tenders were pressed into service to douse the flames, which started at 11 am. Police has registered a case against Mintu in this regard. Photo: Sameer Sehgal

'Activity-oriented classrooms should get more focus'
Amritsar, February 27
Renowned educationist and Khalsa College Public (KCP) School principal Dr Sarvjit Kaur Brar returned from United States today after studying the procedure of imparting education in schools. Dr Brar said the primary and secondary level education in US was activity-oriented, child-centric, where lot of stress was laid on mixing education with activities in the classrooms.
PCMS doctors demand better pay
Amritsar, February 27
The PCMS Specialist Doctors Association presented a charter of demands to Civil Surgeon Dr Yash Mitra here today. It has listed 14 demands of specialist doctors. Association president Dr Khushbinder Singh said they had tried to highlight the current state of health services in Punjab and bring it to the notice of the state government. He said the association had proposed various measures to overcome the shortage of specialist doctors.
Orientation course for teachers begins
Amritsar, February 27
A four-week general orientation course was inaugurated at the Academic Staff College of the Guru Nanak Dev University here today. Prof Gurmeet Singh, an eminent scholar from the University of Delhi, inaugurated the course. Prof Gurmeet Singh highlighted the importance of refresher courses for the teachers.
22 booked for thrashing man
Amritsar, February 27
Tension gripped the Chowk Crori area late last evening when some persons allegedly fired in the air and beat up a youth, identified as Prabhjot Singh. The accused (22 persons) attacked Prabhjot and his friend Vijay Kumar following a collision of motorcycles belonging to both the parties.
21 food samples collected from shops
Amritsar, February 27
The district health department conducted an inspection at various food joints near the bus stand and collected 21 food samples. District Health Officer Dr Shivkaran Singh Kahlon said shops outside the bus stand were purposely chosen as a large number of people come to these places.
Roadways bus crushes man to death
Amritsar, February 27
A man was killed after he was run over by a Punjab Roadways bus near Mehta Chowk here late last evening. The deceased, identified as Rajwinder Singh of Udoke village, was heading towards Mehta Chowk on the motorcycle when the incident happened.
Labourers provided info on welfare schemes
Amritsar, February 27
The District Legal Services Authority, in collaboration with the Labour Department, Putlighar, today organised a seminar to sensitise construction workers about various welfare schemes available to them under the Regulation of Employment and Conditions of Service Act, 1996.
Faction of Namdhari sect meets Police Commissioner
Amritsar, February 27
A day after the police registered a cross case against two groups of the Namdhari sect, which were involved in a clash at historic Namdhari Shaheedi Smarak on February 25, a faction of the sect supporting Thakur Dalip Singh today met Police Commissioner Ram Singh urging him to stern action against the opposite group.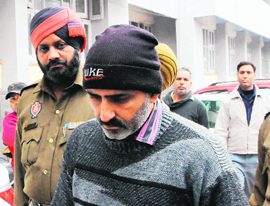 Man arrested for abetting brother's suicide
Amritsar, February 27
The Government Railway Police (GRP) has arrested the prime accused in the abetment to suicide case. A youth, identified as Sunil Kumar, had committed suicide by jumping in front of a train near Shivala railway crossing on January 17. The accused, identified as Pawan Kumar, is the elder brother of the deceased.
Pawan Kumar in police custody in Amritsar. Photo: Vishal Kumar
Five held for running flesh trade racket
Amritsar, February 27
Busting a flesh trade racket, the city police arrested five persons including manager of a guest house and two women. Acting on a tip-off, a police team conducted a raid on the guest house located in the walled city and arrested five persons. Two couples were found in an objectionable condition.
Non-teaching employees hold strike
Amritsar, February 27
Members of the Private Colleges Non-Teaching Employees Union and Punjab and Chandigarh Non-Teaching Employees Union today held a strike for three hours at DAV College and BBK DAV College for Women to demand pay arrears and lifting of the ban on the recruitment of non-teaching staff at government-aided colleges. TNS