The Green Symphony
Conserving Chandigarh's unique tree heritage is as important as its world-famous architecture and it holds valuable lessons for urban planning
Rajnish Wattas
Amidst our urban sprawls of concrete jungles and asphalt deserts — perchance, to sight a grove of kachnars in bloom is like an unbelievable apparition. In the new-age city skylines of glass towers, cuboid concrete boxes, crush of cars and fume-emitting automobiles, the presence of trees is a balm to the city-worn soul. Chandigarh stands apart as a green exception. As one of the few cities in the world with planned landscaping — as famous as its architecture — it's a far-sighted vision of an Arcadian 'utopia' for human settlements.

Urban landscaping is too sensitive a job to be left to horticulturists : Kusum trees have a peculiar trait of leaf fall during the month of March. With new leaves in spring.
---
ARTS
They revel in being one
Artists Rabindra and Amrit Singh, better known as the Singh Twins, might be inspired by the miniature tradition of Indian art but their works reflect the modern reality of a complex world
Nonika Singh
So here they are — Mirror images of each other, Rabindra and Amrit Singh, famously known as The Singh Twins. An unusual jugalbandi rarely seen in the realm of visual arts, they revel in being one. So the twins live, breathe, eat and guess what even paint together as one artist. The decision to paint collectively lies in their childhood years of growing up in the UK where even being twins was considered an anomaly, if not an outright abnormality.
---
Fitness
good health
Chill your way to health and beauty
Complete wellness involves certain lifestyle modifications and regular and productive physical activities
Mickey Mehta
The women of today face many challenges and medical risks. While leading busy lives they should also be aware of their physical, physiological, emotional and spiritual well-being as well as about efforts to delay the ageing process. Women nowadays want to feel healthy and look attractive and not weak and be riddled with problems like osteoporosis, hypertension, diabetes etc. Complete wellness involves certain lifestyle modifications that include sound nutrition and food choices, regular and productive physical activities like exercises, yoga, meditation and rest.
Exercising caution
One should be cautious while buying home gym machines
Dr Ravi Gupta
Most of us invest in some home gym machines in an effort to save time spend in gyms. Here are some pros and cons of some of the most common gym machines which are being used at homes.
---
Society
Narrator of simple, fast-paced stories
Suresh Kohli
I consciously, deliberately make my stories visual, infest them with graphic details. I also like to make the narrative simple, doing a lot of research into the subject matter, whether visiting mother goggle or reading Indian newspapers item by item.
Why emotional empowerment matters
Aruti Nayar
Emotions can be the driver of a woman's life but if she is in the driving seat, she can ensure the ride through life is neither rocky nor turbulent but a sheer joyride.
---
TRAVEL
Maximum city, maximum flavours
Mumbai is busy, kaleidoscopic, filled with sizzling, clanging, cutting, cooking activity as hungry customers flow in, flow out. This is fast food unlimited created by a pan-Indian people for a pan-Indian people
Hugh and Colleen Gantzer
It's all the flavours of spring. In the spring of our togetherness we strolled down the avenues of Bombay, weaving roseate dreams of the future, holding hands. We ambled past a great hotel, heard brittle, bejewelled folk speak of crepes suzette, chicken stroganoff and eggs Benedict before they got into their chauffeured limousines.
Saint of sweetness
Saint Haralampi or Haralambos is the Orthodox patron saint of apiarists or bee-keepers. The day of Saint Haralampi is marked on February 10 every year.
---
ENTERTAINMENT
The young and the hopeful
The Mumbai movie industry is set to witness a wave of promising new faces this year
Saibal Chatterjee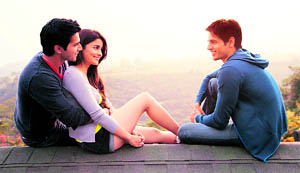 In the year gone by, producer-director Karan Johar did something he had never done before: he made a film with a bunch of rookies. He was asked why he took the risk. His reply was along expected lines, "I wanted to challenge myself. I've always worked with established movie stars.

The lead actors of Student of the Year — Varun Dhawan, Alia Bhatt and Sidharth Malhotra

Flying High
Farhan Akhtar, who is once again facing the camera in Bhaag Milkha Bhaag, gets candid about the making of the film
Swati Rai
National award-winning producer, actor, director, singer and lyrics writer, Farhan Akhtar has broken all possible stereotypes. He will soon be seen in Bhaag Milkha Bhaag, in which he plays the legendary athlete.
---