Negligence in taking anti-rabies vaccination costs youth his life
Deepkamal Kaur
Tribune News Service




Parul Sharma
Jalandhar, March 12
Sheer negligence on part of a family in getting an anti-rabies injection administered to its son after a dog bite incident six months ago has cost the family members dear.
A resident of Mohalla Purani Kachehri, Parul Sharma (21) died due to rabies last evening. While his elder brother Amit Sharma (23), who too was bitten by the same dog, had got himself vaccinated, Parul did not pay heed to his advice and resultantly faced the consequences. Parul, who had completed his class XII, was working as an astrologer at Mitha Bazaar.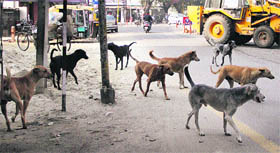 Stray dogs roaming on a road in Jalandhar.
His mother Geeta Sharma said, "He was fine when all of a sudden he complained of body ache and had fever. We gave him medicines, but his condition kept on deteriorating. He developed phobia from everything coming in front of him. We took him to the DMC Ludhiana, PGI Chandigarh and even at a clinic in Nawanshahr but he did not recover."
Amit was too shocked at the incident to comment. Parul's friend Adi said, "The brothers had brought a stray puppy home six months ago. Showing concern for the animal, they started feeding it and taking its care. But it started biting everyone in the house, including his mother and sister Pallavi. The puppy then died and they buried it. Parul had himself narrated the entire incident to me, but remained careless in getting himself immunised."
Meanwhile, Makhan Singh, president of Mohalla Purani Kachehri, blamed it all on the Municipal Corporation. "There are so many stray dogs in our colony. We keep on complaining about the same to the MC staff but they do not seem to be bothered," he rued.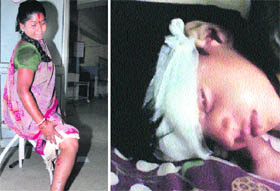 the unfortunate ones: Residents of Jalandhar who have been bitten by stray dogs recuperate in various hospitals. Tribune photos: Malkiat Singh
Dr Satish Sood of the department of communicable medicine at Civil Hospital said Parul's mother and sister also must get immunised immediately as a prophylactic measure. "The family should have got anti-rabies the day they got bitten and followed the vaccination schedule. Even if they had not taken treatment then, they must do it immediately," he suggested.
Another dog bite incident
In another incident, a six-year-old boy was bitten by a street dog at Lava Mohalla. Son of a jeweller, Tanish was attacked by a bunch of dogs in the market area. "Fortunately, the shopkeepers from the market came to his rescue and saved him from any grievous injury. He has scars on his forehead, neck and shoulder. The boy has been immunised against rabies and is fine now. The trauma, of course, will prevail," said area councillor Minta Kochhar. He added, "I have asked the officials concerned to do something to check the growing dog menace. I had raised the issue at the House meeting but there has been no action so far."
Official Speak
Our staff has been catching dogs and leaving them off after immunisation and sterlisation. But the dogs tend to return to their territories. The process of allocating some vacant land in Jamsher village for a dog pond is in the pipeline. We will raise a high boundary wall there and keep the dogs in confinement
— Ved Vyas, Assistant Commissioner, MC