Regular movement of elephants in residential colonies
Trend normal as winters end, say wildlife officials
Sandeep Rawat
Tribune News Service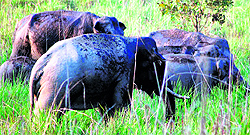 A herd of elephants goes back towards the Rajaji National Park forest cover in Haridwar on Friday. Tribune photo: Rameshwar Gaur

Haridwar, March 15
With the winter season having come to an end, local residents are facing the problem of regular movement of elephants in residential colonies falling on the outskirts of Rajaji National Park and Haridwar forest division.
Change in the climatic conditions have forced the jumbos to move out of the forest cover in search of water in the residential habitat of BHEL, Tibdi, Bilkeshwar and Chilla-Shyampur stretch.
Particularly in the evening, one can see the elephants going towards water ponds or small rivulets to quench their thirst.
For the past week, the movement has been noticed at BHEL hospital-Tibdi stretch .As per nearby residents and BHEL employees, herds of elephants have been coming from Rajaji National Park forest terrain that lies just adjacent to the colony.
This has instilled fear among the residents who are quite hesitant to venture out in the morning and dusk, as many a time the elephants create havoc, destroying crops.
For wildlife lovers and tourists, it is a boon as elephants can be easily spotted. Villages of Missirpur, Jagjeetpur, Katarpur, Panjan Hedi and Jeopata are also reported to be facing regular elephant intrusion of late.
Noted Wildlife scientist Ritesh Joshi attributed the movement to a change in climatic conditions which, he said, will further increase in the coming days.
Specially during forest fires, the elephants will be forced to come out of the dense forest areas to the residential colonies to get reprieve from summer and fire.
He added further that it had now become common for the elephants to move around freely in these areas. He warned people not to get close to them as many times it has been seen that elephants get irritated and cause damage to life and property.
Forest officials said that they had been carrying out routine patrolling in the colonies and stretches where the animals had been spotted. Elephants like bamboos, which make them enter bamboo fields, adjacent to the forest terrain.
"Firing in the air to disperse elephants, or creating loud sounds are the usual methods used by our employees. Making walls and digging the earth is also done at various points to ensure they don't easily intrude into residential colonies," said D. Sanatan, divisional forest official.