Submit tax returns before deadline, firms told
* Anjum Begum takes exception to DM Kurve's statement
* SIDCUL units owe Rs 20 lakh as tax to zila panchayat
Sandeep Rawat
Tribune News Service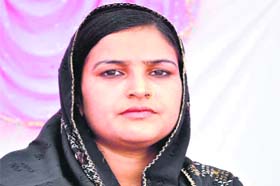 Haridwar, March 11
Appealing for levying taxes on all industrial firms based in the integral industrial estate in SIDCUL, zila panchayat chairperson Anjum Begum has directed all those firms which have not submitted tax returns to submit these, otherwise necessary action will be taken against the defaulters.
Anjum Begum, while talking to TNS, took strong exception to Haridwar District Magistrate Sachin Kurve's statement that zila panchayat should not levy tax on SIDCUL-based industries as these did not carry out development-infrastructure work in the industrial area.
Terming it as an unnecessary opinion, Anjum Begum said that zila panchayat was an independent body which had been created by Panchayati Act of the government, and if SIDCUL fell in its periphery, it had all the reasons to collect tax from the industrial units.
She added that ultimately the tax collected went towards development and maintenance work of the area. It was quite surprising that the District Magistrate thought otherwise, she added.
Directing the industrial units who had not submitted the tax returns for the last month, Begum said that approximately Rs 20 lakh amount needed to be deposited by these units, and if by the next week, this amount was not submitted, then the RC of the violators will be cut.
Citing lack of revenue resources for the zila panchayat, Begum pointed that due to quarrying being prohibited, the panchayat suffered majorly but still she made it a point that development works did not suffer.
She supported the proposal of Meenakshi Chaudhary, vice chairperson of zila panchayat, of levying tax on hoardings on the lines of the MC, as outdoor advertising was a viable tax generation option these days.
Adding further, she stated that increase in taxes on commercial land on properties of zila panchayat as per current market rate, giving on lease commercial hoarding spaces, opening the stalled bidding procedure of loading-unloading of sand, stone, brick contracts and also upping the charge on hawkers, who put on temporary shops in 'peeth bazaar' (local weekly market) are on the anvil.
On the upcoming three-tier-level panchayat elections, Anjum Begum, who is from Bahujan Samaj Party, exuded confidence of winning a majority of seats owing to developmental works done by zila panchayat under her tenure and also due to 'corrupt governance' of Congress currently and previously BJP government.