G R O U N D Z E R O
The mother of all misjudgements
The US-led coalition forces came up with no evidence of the cache of weapons of mass destruction in Iraq, which was the supposed cause of the war. Yet, they have left the country in no better condition than when they invaded it.
Raj Chengappa

First there was the big lie. Ten years ago, on March 17, then US President George Bush warned the world and issued an ultimatum to then Iraqi President Saddam Hussein, stating, "The danger is clear: using chemical, biological or, one day, nuclear weapons, obtained with the help of Iraq, the terrorists could fulfil their stated ambitions and kill thousands or hundreds of thousands of innocent people in our country, or any other.... Terrorists and terror states do not reveal these threats with fair notice, in formal declarations — and responding to such enemies only after they have struck first is not self-defence, it is suicide. The security of the world requires disarming Saddam Hussein now." The year was 2003, just two years after 9/11, and much of the world, including India, was willing to believe Bush.
All of us who had covered the Afghanistan war in 2001 knew that Bush meant business. To reach Iraq, I flew into Kuwait where US-led coalition troops had gathered in large numbers to begin the assault from there. We all underwent a course on how to protect ourselves from a nuclear, biological or chemical (NBC) attack, conducted by helpful British shoulders. I even purchased an expensive gas mask and as we heard news about Iraqis launching a couple of missiles at Kuwait we scurried for cover along with the rest of the population. People were stocking up food for weeks in case they were forced to be holed up in the event of an NBC attack. I even did a course on how to walk in a mine infested area as we waited for the war to begin.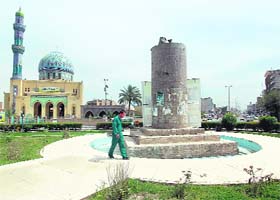 Firdaus Square in Baghdad, where a statue of Saddam Hussein was brought down in 2003. AFP
Launched on March 19, 2003, Operation Iraqi Freedom, as the invasion was known, was fast and furious, designed to "shock and awe" Iraqi forces. As the coalition forces unleashed a storm of devastating aerial attacks on major Iraqi cities, including the capital Baghdad, Iraqi military resistance faded away rapidly. What was expected to be a long-drawn and bloody war was almost over within the first 21 days of assault. By May 1, the coalition troops took control of Iraq as Saddam Hussein and his henchmen fled, leaving the populace leaderless and in chaos. Coalition troops announced the end of combat operations and the beginning of the occupation of Iraq, which ended only in December 2011, when the last batch of US troops pulled out.
In the years after the coalition forces occupied Iraq they came up with no evidence of the cache of weapons of mass destruction (WMD), which was the supposed cause of the war. By 2005, two years after the war, US and British intelligence agencies admitted they had found no evidence that Iraq had in its possession nuclear, biological or chemical weapons. The then German Chancellor, Gerhard Schroeder, called the second Iraq war the "mother of all misjudgements". To his credit, he had opposed the invasion from the beginning. As did Barack Obama, then a US Senator, who had termed it "a dumb war" and when he became President ensured that American troops pulled out as quickly as they could.
The US-led coalition has left Iraq today in no better condition than what I saw of the country when I visited it one year after the war. Democracy in Iraq remains nascent as sectarian and ethnic battles continue to rage across the country. Parliament is crippled, corruption and crime rampant. When I went back in 2004, the seeds of chaos that followed the aftermath of the war had already been sown. There were no jobs for ordinary Iraqis.
When I travelled to Karbala, at the gold-domed shrine of the martyred Imam Hussain, a bespectacled teacher, Fadhat Hussain, told me that he hadn't received his salary for months and he had to feed his wife and four children working as an assistant to a blacksmith. "I am up to my knees in debt. When Saddam was ruling at least we got our salaries." Hussain said. Another Iraqi told me that during Saddam's time crime was negligible but now thefts and rape were common and the average citizen feared for his security. Baghdad had become, as one resident described it, a "city of Ali Babas". Ziad Salah, a trader, told me, "Everyone in the queue has a hand in each other's pockets and at the end of the line is the government's hand."
Recent reports from Baghdad show that nothing has really changed. Opinion polls in the US indicate that in retrospect most Americans believe that the second Iraq war was a mistake. Over 4,000 US soldiers were killed and 32,000 wounded — a high price to pay for freedom that has already turned into a nightmare. No surprise then that the 10th anniversary of the 2003 Iraq war was an unhappy one with hardly any celebrations. Instead, 50 people died in bomb blasts across Iraq. With the US pullout from Afghanistan just a year away, there seems to be little hope that Kabul would be better off than Baghdad after the coalition forces withdraw. For all those who propagate the concept of regime change, Iraq and Afghanistan are grim lessons to learn from.