good news
Families weren't there for them, this home is
Apahaj Ashram in Jalandhar provides its 135 inmates comprising the elderly and mentally challenged with comfort and balanced meals. They now know what it is to be cared for.
By Aparna Banerji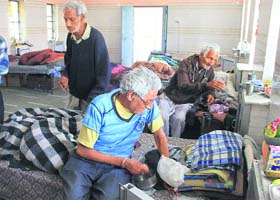 A state-of-the-art dining room and kitchen are being planned for the ashram.
THE walls of the Apahaj Ashram in Jalandhar echo stories of longing and laughter, of abandoned parents, desolate mothers, fallen millionaires and little children whose parents never came back, and also some lucky reunited families.
In the huge golden, sun-kissed courtyard of the ashram sit grey-haired men and women, talking, combing one another's hair, laughing or brooding over heartless families. A quaint shelter situated on the Old GT Road near Burlton Park, Jalandhar, it is a home for those whose families abandoned them when they needed them most. The ashram houses a "vridh" ashram as well as a wing for the mentally challenged. Established in 1965, it is run by the Apahaj Sahayak Sabha and has 135 inmates, including the elderly and about 20 mentally challenged inmates.
The overhaul
While about a decade ago it was a derelict compound with limited, shabby rooms and dormitories, and even without a sewerage connection, it all changed for the good when the present Chairman Tarsem Kapoor took over in 2002.
Back then, the about 100 inmates of the home included some staff members and their children, but they were moved out as the lodgings were reserved strictly for the needy.
A modest organisation that was getting a mere Rs 6 lakh annually as donation when Kapoor joined, is now getting as much as Rs 90 lakh per annum. Though some would say it isn't a big amount, he considers it enough.
"It was difficult to arrange for donations at first, but thankfully when you work, people join in and today we have ample with God's grace," he says.
New wards were built, older ones were renovated and proper staff put in place to ensure care for the inmates. Milk for the inmates comes from an in-house "gaushala" that has about 50 cattle. An ambulance is available for them round the clock and a doctor comes to check on ashram residents every evening.
Like a home
The inmates' eulogy to staff members is one of the many proofs of the comfort they enjoy. "This place is a heaven for me. I can sleep without worrying who will take me to the doctor if I get ill. I am getting five meals in a day, besides milk and almonds. What more do I need? The children I bore never even asked how I was," says 72-year-old Ved Praksh Sharma, a man who owned a business worth crores but was abandoned by his son after his father began incurring losses. Sharma's friend Munshi Ram enthusiastically adds, "People with lakhs and crores leave their loved ones to rot on the road and it's these (ashram) people who bring them here and nurture them. There's no nobler deed."
In the women's section, a cheery quartet one confuses for inmates turns out to have one attendant and a visitor (daughter of an inmate) as well.
Meenu calls the caretaker Sonia "mummy" (other mentally challenged inmates address her in a similar fashion). Sonia says they all are her daughters. Meenu, in her 20s, was left at the ashram by her brother who told the ashram he would return after his brief duty at Bhakhra Dam to take her, but never did.
Eleven-year-old Kajal has siblings, but since she was challenged, she was abandoned by her parents, who Sonia says are well to do but still left her.
"Changey bacche rakh lainde, dooje chad jande (they keep 'good' children and leave the others here)," Sonia remarks. Over the years, many inmates have also returned to their families. Nathuram Baba, from Uttarkashi, a Sanskrit scholar who was more like the ashram's priest, would conduct puja every day for inmates, but reunited with his family some months ago.
Datta, who was mentally challenged, got better and was taken back by his family. Others like Shiv Das, who had jumped in the Beas to end his life (tormented by the death of his son and wife) was jailed for attempt to suicide but fate brought him here. "There are no worries for food or shelter, so I have given up thoughts of dying," he says. Yograj, who has worked with the police and railways, is a poet and writer. His son left him at the ashram. And though he is no doctor, he is called so both by the staff and fellow inmates because he has a fair knowledge of medicines and injections.
Future wise
While things have gotten much better at the ashram, Kapoor says there is room for improvement and expansion plans are under way. "While the old wards have been renovated, we plan to build a state-of-the-art dining room and kitchen. Other improvements and additions shall also be made from time to time," he says.