Love notes
Different is the first word that comes to mind even as one mentions singer Mohit Chauhan's name. In Chandigarh, he lives up to each letter of the word…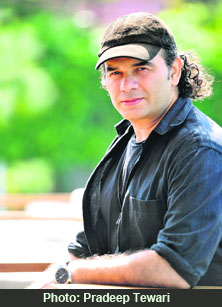 Everything is in place, the words cascading down like they have to, pauses wherever necessary… everything is in place, except for that 'in-my-own-world look' on singer Mohit Chauhan's face. Sitting at JW Marriott, Chandigarh, dressed in black, a baseball cap on that long rockstar hair…everything is in place except for Mohit Chauhan the bard, the shepherd, the loner, the swashbuckler…. So, will the real Mohit Chauhan please stand up! He laughs. This laughter is nothing like his songs - soothing, mellifluous. It is childlike, the one that comes while we are buying time before any confession. "I haven't changed, not even a bit. I still long for quiet places, looking at clouds passing by; I long to be home, just home." Even before he finishes, the singer with a silken thread voice adds almost immediately, "Even when I want to do this so much, I can't. People come by for work, I have to meet them, travel; shows, recordings…the position that I am in, I can't be just quiet," he says. "But I am still the same," a reassuring sentence for him, and for us.
Social screen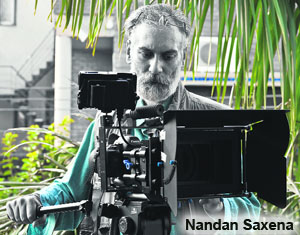 Filmmakers Nandan Saxena and Kavita Bahl left the field of journalism to follow their heart's calling. And their creativity is more than visible in each of the films made by them…
These two filmmakers aspire to lend a voice to people who have been neglected by the society. Their film Cotton for My Shroud is based on suicides by cotton farmers in Vidarbha and it won the Rajat Kamal for Best Investigative Film of year 2011. They would be in Chandigarh with their films for 'Event Sunday with Filmmaker' organised by Chandigarh Creative Cinema Circle.
Bling factor
Designer World 2013, a lifestyle exhibition, offers from clothes to accessories to fabric to shoes...
Just as we finish winding up with a couple of them, there comes yet another. Chandigarh never gets tired of lifestyle exhibitions, does it? Clothes, accessories, fabrics, bling; the more the merrier. Designers World 2013 further adds to the options of bling, fuchsia, net and all that jazz.
Astro turf
ARIES: Disappointed? Do not lose hope. Your lucky break is just around the corner. Try to increase your knowledge in new areas. Health will need more care in the evening. Tarot message: Lack of caution can leave you in losses. Lucky colour: Coffee. Magic number: 28
The year ahead
If your birthday is March 31...
Your birthday on March 31 adds a degree of emotion, sensitivity and intuition to your character. The energy will allow you to make friends easily and quickly. You have a warm-hearted nature and emotional understanding that constantly seeks affection.
Chatter box
Emotional adieu


After playing the double roles of a mother and daughter, Tina Dutta now has a respite. With Ichcha dead, she will stick to playing the daughter, Meethi. Talking about the role and letting go of Ichcha, Tina gets emotional.
Did you get tired of the double role?
No, I was never tired of the double role. In fact, I enjoyed playing Ichcha and Meethi. They are roles with substance.
Was it easy?
Yes, it was tough at times but both characters have so much contrast that it's fun to play them. Moreover, playing a double role is a big deal for an actor – it's an achievement. I have worked so hard on both the roles and both of them are dear to me.
Neha's fitness regime
Neha Dhupia is a bombshell. She maintains a curvy body which is toned too and goes for stylish clothes. She has an amazing and eclectic sense of style. She talks about fitness and maintaining her body.
Basic philosophy: Rome was not built in a day. The idea is to make a temple out of your body. Fitness should not be a fad. I have a really good set of trainers and people who guide me on a daily basic. It is my lifestyle now. My routine has been personalised for my body type. I do cardiovascular exercises and weight training. I also do Pilates and muscle-toning exercises which are free from injuries and improve your core and posture.
Sallu & his protégés
Salman Khan is now taking Sooraj Panscholi under his powerful wing to launch his career in Bollywood. We take a look at his other protégés. Salman has an eye for talent and is responsible for miraculously changing the lives of so many people
Katrina Kaif: She would have remained a model or done not-so-happening movies had it not been for Salman Khan who helped her career and put her on the A-list map. He worked with her before anyone else on Maine Pyar Kyun Kiya. Then Namastey London and Humko Deewana Kar Gaye happened and Katrina's meteoric rise to stardom has been unprecedented. She has a powerful position in the industry today and owes all this power and success to Salman Khan.
Lucky break
If you have the appetite for Punjabi cinema, here's a relief from the rhetoric. At Hotel Park Plaza, Sector 17, Chandigarh, the cast and crew of Lucky di Unlucky Story launched the music of the much-anticipated film on Saturday. Produced by Gurfateh Films and Sippy Grewal Productions, the film, directed by Smeep Kang, will bring Gippy Grewal and Jackie Shroff together for the first time. Although the cast is expecting a commercial success, depending on its comic story line and concept, Gippy elucidates on a wider perspective and defends its creative essence while defining its plot.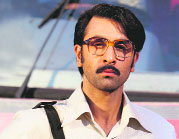 Bare minimum: Ranbir Kapoor

Ranbir's de-glam avatar
Apart from his acting abilities, youth icon and heartthrob, Ranbir Kapoor is known for his good looks and trend-setting style. However, the actor shocked many when he stepped out of his vanity van recently for the shoot of Pepsi's IPL campaign at Filmcity in Mumbai. Sources said many crew members, who were not privy to the drastic make-over, were unable to recognize the actor.
Sanjay gets back to work
With only a few days left at his disposal before he returns to jail to complete his five-year sentence in the 1993 serial blasts case, actor Sanjay Dutt recently started shooting for Policegiri at Kamalistan studios. The actor is shooting for a climax scene and soon he will have to dub for his parts which require him to work for 8-10 days.