It's not wise to ignore health problems, no matter how minor they seem. Aamir Ali learnt it the hard way. The actor from Jhilmil Sitaaron Ka Aangan Hoga (JSKAH) had developed a lump on his forehead two years ago. Back then, he didn't bother as it wasn't painful. But two months ago, the situation changed. Aamir was reeling in pain. So, just before signing Jhilmil Sitaaron Ka Aangan Hoga, he got it surgically removed. However, the makers of the show and the channel Sahara One wanted him to commence the shoot immediately and Aamir had no choice but to act with a band aid on his forehead.
Said Aamir, "Since I had to start shooting, I had no choice but to cover it up." We wish Aamir a speedy recovery.
Different strokes of success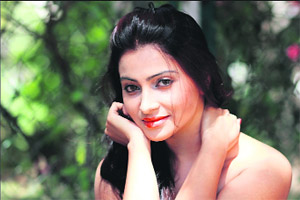 Looking ahead: Aleeza Khan
The confident and pretty actor Aleeza Khan, who gained popularity after essaying different roles in Ghar Ki Lakshmi Betiyan and Luv U Zindagi, is back on television with the lead role in Jhilmil Sitaaron Ka Angan Hoga that will be telecast on Sahara One Television. Aleeza, who believes in doing something different, has replaced Shriya Jha for Angna Rai Chand's character. Life+Style roped-in Aleeza Khan for a heart-to-heart talk about the show and her career.
What is the show all about?
Rajshri's show has a new storyline. Amir Ali has replaced Pankaj Tiwari and the show puts more emphasis on family values. It is a great opportunity and I will give my best.
How did this show happen?
The producer Kavita Barjatya was in the process of replacing Shriya Jha. She wanted me to step-in for the lead role of Angana Raichand. When I heard the new storyline, I immediately said yes for this family show, which has well-etched characters that viewers will fall in love with.
What has your journey in the tinsel world been like?
I have done Ghar Ki Lakshmi Betiyan, Luv U Zindagi and also episodes for CID, Akela, Aahat, Rooh, Raat Hone Ko Hai, Shapath and Savdhan India. I hope Jhilmil Sitaaron Ka Angan Hoga will also be my successful show.
Is the Aleeza-Aamir pair also a huge hit?
When you work with a good actor, it is always going to be good. He is a complete actor. There is a lot of give and take between us as actors. I am comfortable with Aamir and enjoying working on the sets.
Is the character Angana Raichand close to you?
You have to give a part of yours to every character you play. There has to be an element of truth in it. Angana Raichand is as real as I could be.
Do you prepare for the role?
No, I do not prepare for the role, it comes to me naturally.
So are you doing anything else other then this?
I am just doing this show right now.
— Dharam Pal
In the pink of health
Actor Gautam Rode, who is currently seen in the TV show, Saraswatichandra, shares the secret of his happy lifestyle and fitness regime with us.
How do you stay fit?
I believe that proper eating habits combined with a strict work-out plan results in making the body fit and healthy. So, instead of dieting or eating the wrong food and then sweating it out at the gym for hours, one should follow a disciplined routine. That's what I do to stay fit.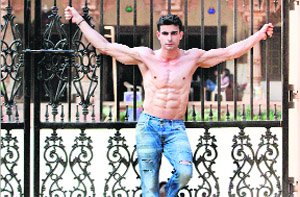 Fitness mantra: Gautam Rode
What's an ideal workout for you?
Whenever I get the time, I make it a point to hit the gym. I normally work out my shoulders, chest and back.
Is there anything you avoid eating?
Not really. I am not hooked on to junk food and have never been fond of fried food or chocolates either.
How do you relax?
Working out is fun for me and so whenever I'm free, I go to the gym. I simply enjoy exercising. That's my hobby.
What are your top tips for leading a happy life?
Eat healthy, stay healthy and work out. Your mind and heart should be at peace.
What is the best advice you have ever received?
Focus on today rather than thinking about the past or worrying about the future.
What's in your workout-bag right now?
The Terreband. They are workout elastic bands for resistance training.
What's your current workout playlist?
My current workout playlist includes Mission Impossible and Rocky's theme songs and my current favourite track is Nautanki Salla.
What's your diet like?
My daily diet includes brown rice and channa or muesli, fruits, soya milk, almonds and vegetables. I also eat fruits before sunset every day. Breakfast for me includes skimmed milk, one protein shake, almonds, sunflower seeds, oats and muesli. Lunch is usually brown rice, dal and cholas. I prefer food with less oil. For dinner, I usually eat salads, tossed veggies and sometimes soup. I also drink green tea throughout the day.
An inside view of IPL
Television channel National Geographic later this year will air a special series that will reveal the facts behind the massive machinery of the Indian Premier League (IPL).
The series Inside IPL will answer several questions of the Indian cricket fans and explain the inside story of the IPL. The IPL features 54 days of cricket, 76 matches, nine teams, 12 venues and more than a 100 million spectators and TV viewers, bringing together cricket, business and entertainment to create an exciting concoction.
From the organisation and preparations for the IPL 2013, to its execution, management, broadcast, players and fans, Inside IPL will give viewers a never-before peek into the making and shaping of India's largest annual sporting spectacle.
National Geographic Channel's Inside series showcases the world's most restricted places and behind-the-scenes moments from some of the world's greatest events.
—IANS