Punjabi screen, changing trends
Now, here's something new for Punjabi films. Amid the very few women directors in Pollywood, Anuja Sachdeva, who makes her debut with Aashiq Patthey, is out to make her mark…
Jasmine Singh
Even without making it sound unbelievable, the 'growing-everyday' Punjabi cinema has ushered in many trends. More and more Punjabi singers —known, unknown, popular — are making a beeline to the sets! And yes, the recent addition is women donning the director's cap. Now, this definitely classifies as 'new' and fresh. Anuja Sachdeva makes her debut as a director with her first Punjabi film Aashiq Patthey starring H Dhami (the well-known UK Punjabi singer) Sarrtaj Gill, Soni Barring, Keeya Khanna, Yuvraj Goel, Deedar Gill,Om Puri and Mukul Dev.
Anuja starts shooting for her movie in Punjab from April 13 and this pretty woman feels fulfilling a dream is always the biggest challenge. Having acted in films like Teen Patti, Anuja has taken to the director's role with elan!
Directing dreams
"I have a lot of Bollywood in me; I have grown up in that ambience. I always wanted to act and direct. Aashiq Patthey came along as a good opportunity; it had a good script and I had no reason to say no," she says. Zeroing-in on Punjabi cinema was a deliberate decision? "I am a Punjabi; I wanted to work in this genre first. Besides, it is a growing industry with very few women directors," she can't control that impish smile when she mentions how she wants to prove people wrong. "I am sure many people are wondering what would a woman do, the challenge here is to prove them wrong." She finally acknowledges the word challenge and how she enjoyed working on it!
The challenge
"I am blessed to have a nice team, I haven't had any problem with them," says Anuja, who didn't have any trouble in calling the shots on the sets. "The only time I faced a problem was when I couldn't understand chaste Punjabi words in the script. This is where my writer intervened to explain; in fact it was quite a learning experience for me as well."
Happy-go-lucky
Comedy is the success mantra for Punjabi cinema and everyone's making hay while it is there. Anuja, however, feels her work has to be a reflection of her attitude. "I want to make people happy; I want to entertain them, giving them a reason to smile, which is why I chose comedy as a genre. I want that the audience should get value for their money," says the director, who is inspired by the works of Farah Khan.
The movie
This is the story of two boys who don't believe in any work and how they track the richest girl in the college to end their problems. "It is a complete family entertainer with loads of fun-filled moments. Every character is well-etched out with no boring moments," says Anuja.
Dream debut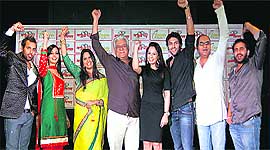 (Third from left) Anuja Sachdeva with Om Puri

Hartinder Dhami, known for his British India act, makes his debut in Punjabi movies with this film, which he feels is no extra work. "The character I play is quite a bit like me, so comedy comes naturally," shares Hartinder, son of Palvinder Dhami, lead singer of the 1980s prominent bhangra team Heera Group UK. Hartinder released his debut album Sadke Java in 2008. It includes collaborations with Roach Killa, Chaaya and Mumzy Stranger. It has been a roller-coaster ride for the singer, who has been travelling a lot, since then. "We should be proud of our culture; if the message sent through music and films is brilliant." All set to release his second album, Dhami will be out with the single very soon. As of now: "I am reading the script of the movie."
jasmine@tribunemail.com