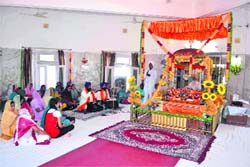 Devotees listen to shabad kirtan held on the occasion Baisakhi at Gol Gurdwara, Jwalapur, in Haridwar on Saturday. Tribune photo: Rameshwar Gaur
Candidature of 3 rejected
Pithoragarh April 13
The candidature of Prahalad Singh Chufal (Independent) for the post of chairman in Didihat town was today cancelled by the returning officer on the basis of Clause 3(d) of the Tri-level Panchayati Raj Act of the state, which prohibits a candidate having more than two children from contesting the local body election.
Bureaucrats, contractors connive to sabotage MNREGA: Study
Dehradun, April 13
Bureaucrats with the connivance of contractors and landlords-cum-politicians are trying their best to sabotage the MNREGA flagship programme in the state and Rs. 348.81 crore given to this flagship programme are being misappropriated.
Class IV staff end 22 day-long stir
Dehradun, April 13
Uttarakhand Class IV employees have finally ended their 22 day-long stir today.
IPS trainees from Hyderabad visit IMA
Dehradun, April 13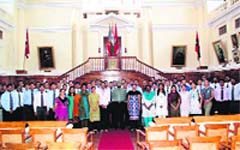 Two groups of 80 IPS trainees each from Sardar Vallabhbhai Patel National Police Academy, Hyderabad, visited the Indian Military Academy (IMA) here today.






A group of IPS trainees, along with police officials from Nepal, Bhutan and Afghanistan, at the Indian Military Academy in Dehradun on Saturday.

9 lakh take dip in Ganga on Baisakhi
Haridwar, April 13
The festival of Baisakhi was celebrated with fervour and gaiety here today.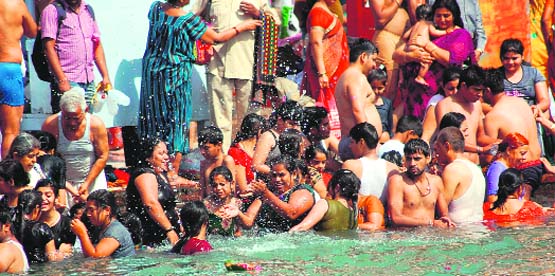 Devotees take a holy dip at Brahamkund, Har-ki-Pauri, on Baisakhi in Haridwar on Saturday. Tribune photos :Rameshwar Gaur

Land identified for Doon campus of IIM (Kashipur)
Dehradun, April 13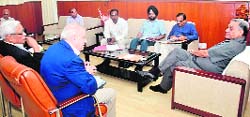 The state government has identified land for the Dehradun campus of the Indian Institute of Management (IIM), Kashipur. This was stated by Chief Minister Vijay Bahuguna during a meeting with a team of officials from IIM, Kashipur, at the Secretariat here today.

Chief Minister Vijay Bahuguna holds a meeting with officials of the Indian Institute of Management- Kashipur in Dehradun on Saturday.

Set up green houses in state: Om Prakash
Dehradun, April 13
Chief Secretary Alok Kumar Jain yesterday presided over a meeting of the steering committee of the Horticulture Mission for the North East and Himalayan States (HMNEH) at the Secretariat. The steering committee approved Rs 30 crore for 2013-14.
IPS officer encourages use of cycle
Dehradun, April 13
Uttarakhand Senior Indian Police Officer Nilesh Bharne has stressed encouraging cycling among schoolchildren.
ABVP to launch stir against pvt schools
Dehradun, April 13
The Akhil Bharatiya Vidyarthi Parishad (ABVP) has decided to launch an agitation against private schools in Dehradun.
Rajeev Shukla calls on Guv
Dehradun, April 13
Union Minister of State for Planning and Parliamentary Affairs Rajeev Shukla made a courtesy call on Governor Aziz Qureshi at Raj Bhavan yesterday.
Guv's greetings on Ambedkar anniversary
Dehradun, April 13
Governor Aziz Qureshi has greeted the people of the state on the occasion of the 122nd birth anniversary of Bharat Ratna Bhimrao Ambedkar.
Bahuguna pays tributes to Ambedkar
Dehradun, April 13
Chief Minister Vijay Bahuguna paid a rich tribute to Bharat Ratna BR Ambedkar on his 122nd birth anniversary.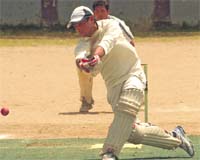 Doon Tuskers win by 9 runs
Dehradun, April 13
Doon Tuskers Cricket Club defeated Khalsa Cricket Academy 'B' team by 9 runs in a match during the 61st Dehradun District Cricket League played at Survey Stadium here today.





A batsman plays a shot in a match during the 61st Dehradun District Cricket League in Dehradun on Saturday. A Tribune photograph