Bahuguna distributes bicycles among 50 girl students
Dehradun, April 4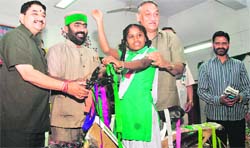 Chief Minister Vijay Bahuguna distributed cycles among 50 girl students while launching the Mukhyamantri Balika Shiksha Protsahan Yojana here today. He also gave cheques to prinicipals for creating fixed deposits for 30 students of Government Inter-College, Saiya ,14 students of Lakhwar and 29 students of Nagthat.

Chief Minister Vijay Bahuguna and Education Minister MP Naithani present a bicycle to a girl student in Dehradun on Thursday.
DM gets tough on polythene ban
Dehradun, April 4
District Magistrate BVRC Purushottam here today convened a meeting of 60 sector magistrates, four zonal magistrates and volunteers on the issue of ban on polythene in the city.
Women stop opening of liquor shop in Almora
Pithoragarh, April 4
Activists of the Uttarakhand Mahila Morcha did not allow the administration officials to facilitate the opening of a liquor shop at Bharochkhan town in Almora district today. The women activists came face to face with local traders who are opposing their anti-liquor movement in the town.
STF nabs hardened Bihar criminal from Doon
Dehradun, April 4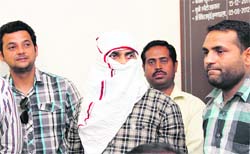 Special Task Force (STF) officers arrested hardened criminal of Bihar Shambhu Singh, 37, from Indira Nagar Colony at GMS Road in the city late yesterday. Bihar government had announced a reward of Rs 1 lakh for giving information about Shambhu, who has committed 22 murders and has been booked under around 47 cases of heinous crimes in Bihar. He was living in Dehradun with his wife since 2004, while operating his work in Bihar from here.

The accused in police custody in Dehradun on Thursday. Tribune photo: Vinod Pundir
Don't slaughter cows, Guv to community
Dehradun, April 4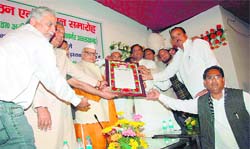 Governor Aziz Qureshi has called upon all members of the Qureshi community to give up cow slaughter so that sentiments of any community were not hurt and people could live in peace with a feeling of brotherhood.





Governor Aziz Qureshi being felicitated at a seminar organised by the All-India Jamiat-ul Quresh in Dehradun.

Novel way to educate youth about traffic rules, signs
Dehradun, April 4
It is usually the youngsters who take to rash driving to derive instant thrill out of it. Regional Transport Office has targeted this niche group to disseminate information about the traffic rules and regulations along with relevant information about traffic signs.
1,202 booths set up for pulse polio drive
Dehradun, April 4
Chief Development Officer Sushil Kumar held a meeting on the issue of Pulse Polio campaign to be held on April 7 in the district. He directed the officials concerned to make full preparations so that no children of eligible age could be left out.
Boycott of work by class IV staff enters 5th week
Haridwar, April 4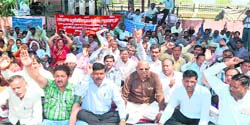 Class IV employees under the aegis of the Fourth Grade State Employees' Union refrained from official work for the fifth consecutive week today in support of their demands.


Class IV employees of the state government stage a protest as part of their indefinite strike in Haridwar on Thursday. Tribune photo: Rameshwar Gaur

Sharma president of PMHS, Doon
Dehradun, April 4
Pankaj Sharma was today elected as president and Anand Shukla as secretary of Provincial Medical and Health Services (PMHS), Dehradun district, the election of which was held today at Doon Hospital.
Doon Tigers defeat Arya Club
Dehradun, April 4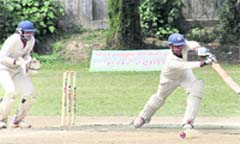 Doon Tigers defeated Arya Club, New Delhi, by 135 runs during a match in the 5th All-India Uttarakhand Cricket Cup-2013 played at the Rangers' College ground here today. Batting first after winning the toss, Doon Tigers scored 262 runs all out in 34.4 overs helped by a century by A Karanwal.


A batsman in action during a match in the 5th All-India Uttarakhand Cricket Cup Tournament in Dehradun on Thursday. Tribune photo: Vinod Pundir