Divine trust revives traditional Phool Dei festival
Ajay Ramola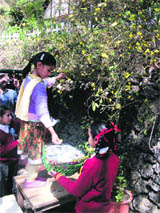 Students of Bal Vidya Mandir pluck flowers to celebrate 'Phool Dei' in Mussoorie.
Mussoorie, March 25
In a symbolic gesture, Phool Dei, a traditional festival of Garhwal, was celebrated with fervour for the first time under the aegis of the Divine Light Trust near Barlowganj in Mussoorie today.
More than 12 girl students from Bal Vidya Mandir School gathered on the premises of the Divine Light Trust and plucked the traditional yellow flowers 'Fyonli', which are considered auspicious and are growing in abundance here.
The girls then went to every house at Merryville Estate with plates full of rice, jaggery, coconut, green leaves and 'Fyonli' and shared them with the residents to mark the occasion.
The chairman of the trust, Dr Sunil Sanon, said the office premises were laden with 'Fyonli' flowers along with several species of 'Primola'. The trust members decided to celebrate the Phool Dei festival in Mussoorie in order to revive and preserve the dying tradition and culture of Uttarakhand. Sanon highlighted the importance of the festival saying, "Girls perform most of the rituals on this day. At some places the festival is like a carnival and the celebration goes on for a month. The festival marks the advent of spring. Dei, a special ceremonial pudding made of jaggery, white flour and curd, is offered to the visitors. On Phool Dei girls go to every house in their villages with plates full of rice, jaggery, coconut, green leaves and flowers and give their good wishes for the prosperity of the households. The residents give them blessings and presents in return. At a few places even today they sprinkle auspicious flowers and rice on the doorsteps and sing Phool Dei, Chamma Dei, Deno, Dwar, Bhur Bhakar, Vo Dei Sei Namaskar, Puje Dwar."
Sanon said, "At the spiritual level yellow flowers are the symbol of divine knowledge as it is believed that plants are the generator of cosmic energy and intelligence. Therefore, Fyonli flowers are considered auspicious and revered on the occasion."
He hoped that this symbolic gesture would galvanise others too so that the festival could be celebrated with the same vigour in the years to come.
The chief guest, Sashi Mishra, explained the importance of the festival and said since time immemorial flowers had been a symbol of divine consciousness. Therefore, people should ensure that such traditions did not fade away in the din of the modern life. She commended the efforts of the Divine Light Trust in reviving the festival in Mussoorie so that the youth could also celebrate it with vigour.
Members of the trust Pramod Sawhney, Sunil Bakshi and others were present on the occasion.
It is worth mentioning that Sanon, who is of the Punjab origin, has taken up the onus of promoting the age-old traditional festival in Mussoorie.