Protest for better civic facilities
Dehradun, April 2
Members of the Uttarakhand Parivartan Party staged a protest at the office of the District Magistrate in support of their demands here today. The protesters submitted a memorandum addressed to the Governor to the District Magistrate demanding better civic facilities to a large population living in slums.
Jhanda Mela concludes with nagar parikarma

Dehradun, April 2
Devotees of Shri Guru Ram Rai Darbar participated in a nagar parikarma (procession) led by Mahant Devender Dass in the morning today. The parikarma marks the end of the Jhanda Mela.



Mahant Devender Dass, Mahant of Sri Guru Ram Rai darbar, leading a nagar parikarma during the historic Jhanda Mela in Dehradun on Tuesday. Tribune photo: Vinod Pundir

Communication terminal at highest point for Nanda Devi Raj Jat Yatra
Dehradun, April 2
In a unique initiative, the Indian Space Research Organisation (ISRO) and Uttarakhand Space Application Centre (USAC) will set up a communication terminal at Shila Samundar located at 14,000 feet for maintaining continuous communication links for the Nanda Devi Raj Yatra starting from August 29.
Kuldeep Sharma enthrals audience at students' week celebrations
Dehradun, April 2
It was a day of folk songs at DAV (PG) College students' week celebrations, with Himachali singer Kuldeep Sharma enthralling the crowd today.
BJP seeks removal of Harak Rawat from chairmanship of USTDC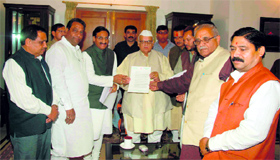 Dehradun, April 2
A delegation of BJP leaders led by Leader of the Opposition in the Uttarakhand Assembly Ajay Bhatt today met Governor Aziz Qureshi at Raj Bhavan and submitted a memorandum demanding removal of Agriculture Minister Harak Singh Rawat from the post of Chairman of Uttarakhand Seeds and Terai Development Corporation.

A delegation of BJP leaders meets Governor Aziz Qureshi at Raj Bhavan, Dehradun, on Tuesday.
Arya convenes meeting of DPC to review proposed expenditure
Dehradun, April 2
Minister for Revenue, Land Management and District Planning Committee (DPC), Yashpal Arya, today convened a meeting of DPC to review the proposed expenditure of Rs 74.61 crore. He directed officials to select the development plans as per the proposed expenditure.
7 stolen two-wheelers recovered; two arrested
Dehradun, April 2
Lakhi Bagh police has arrested two persons who had been involved in the theft of two-wheelers for the past six months. The police has recovered seven two-wheelers from them.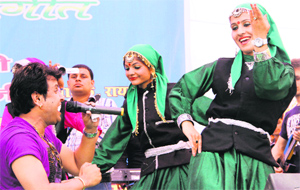 Artistes performing a dance at the Students' Union week celebrations of the DAV PG College in Dehradun on Tuesday. Tribune photo: Vinod Pundir
Handicapped persons felicitated
Dehradun, April 2
Principal Secretary S. Raju today said that the government was committed to the welfare of disabled and early detection would go a long way towards providing care and other facilities for the autistic children.
Fire incident at Nainital Raj Bhawan
Dehradun, April 2
A fire broke out at Raj Bhawan in Nainital around 2.15 pm today. However, timely intervention by the Raj Bhawan staff prevented any damage to the heritage building.
Iceland Prez calls on Qureshi
Dehradun, April 2
They both had a courtesy meeting .They discussed the beauty and environment of Uttarakhand. A high tea was organised in honour of the President at which several eminent people were present.
Wildlife Institute team beat FRI Deemed University by 4 runs
Dehradun, April 2
A cricket tournament was organised by Indian Council of Forestry Research and Education (ICFRE), Dehradun, at Indira Gandhi National Forest Academy (IGNFA) cricket ground in which teams of Ministry of Environment and Forests (MoEF), New Delhi; IGNFA, Dehradun, Wildlife Institute of India (WII), Dehradun; Forest Research Institute Deemed University (FRIDU), and ICFRE, Dehradun, participated.
Doon Tigers beat Vardhan Warriors by three wickets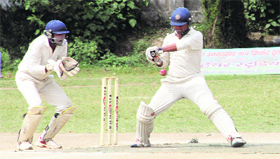 Dehradun, April 2
Doon Tigers, Dehradun, beat Vardhan Warriors, Moradabad, by three wickets in a match in the 5th All India Uttarakhand Cricket Cup 2013 played at Rangers' College ground here today.


A batsman playing a shot in a match in the 5th All-India Uttarakhand Cricket Cup-2013 played at Rangers' College ground in Dehradun on Tuesday. Tribune photo: Vinod Pundir

Khalsa B team win
Dehradun, April 2
In the Dehradun District Cricket League being played on Survey Ground, the Khalsa B team won its match by 6 wickets against Vikasnagar team today.