star track

Shah Rukh Khan on Chennai Express
Superstar Shahrukh Khan likes to pick films instinctively. He is especially happy with Rohit Shetty's Chennai Express as it's a great change for the actor. He believes it is a different project and quite a change from the intense films he has done in the recent past. He talks about the film and more…
On Chennai Express
I only do films that I like and as and when I get the opportunity. Two years back, Rohit narrated a couple of films to me. Out of which, I liked the remake of Angoor and Chennai Express. But Rohit wanted to do the latter one first as it is a bigger film with fantastic comedy and action.
The big change
It's embarrassing for me to speak of films that I produce, but I just have to say that Rohit has done a great favour by making a film like this for me. It's fun and I am enjoying it. Yes, I end up doing very intense films like Jab Tak Hai Jaan, Chak De! India and My Name Is Khan and so it (Chennai Express) is a nice change for me.
The more, the merrier
I like awards and I appreciate them. I feel most of the awards that we have in India, are for years of work that we have done rather than just one show. Moreover, it is nice to see that the entire film community comes together. We get five-seven opportunities a year where everyone gets together, so it's a time to celebrate. I like them. The more the merrier.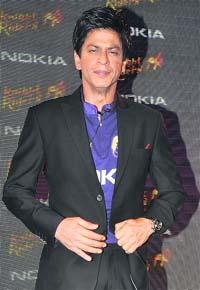 Fan fare
I normally don't get to travel abroad. I only come for functions and work. It is very nice to see that people, from around the world, love you. More than screaming and shouting fans, I like the fact that people of all ages and at all stages appreciate what Indian cinema is doing. It's great.
In the pipeline
We are making Chennai Express and then there is another film called A for Apple, B for Billi, C for Cutta (ABC). Two others are in the pipleline, but I would like to keep them under wraps.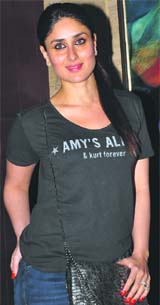 Up front: Shah Rukh Khan
Lady in love
Kareena Kapoor Khan is shooting in Bhopal for the last schedule of Satyagraha and she is already missing her husband Saif who is in Lucknow shooting for Bullet Raja. Both films are in their last schedule. The couple took some time off from their schedules to meet up a while ago.
Priority act: Kareena Kapoor Khan
On the right track

Vipul Shah's investment in Pooja Chopra and Vidyut Jamwal has paid off. Both the newcomer & the debutant are getting lots of compliments. Vidyut has stunned everyone with his action skills & Pooja has held the movie together with her emotional graph and confidence. They both look good too. We wish them all the best.
Well begun: Vipul Shah
A complete package
Farhan Akhtar and Ritesh Sidhwani along with the director of the movie, Mrighdeep Singh Lamba, launched the trailer of their movie, Fukrey at Jai Hind College canteen and showed off their Fukro Ki Toli.
The cast comprises, Pulkit Sharma, Varun Sharma, Manjot Singh, Ali Fazel and Richa Chadda. The movie is set in Delhi and is about the situation of a gamble gone wrong. However, essentially, the film is about these four Fukras who aspire to enter college and day dream. The trailer showed a thrilling mixture of unique characters played by the star cast Honey, Choocha, Lali, Zafar along with the deadly bholi Panjaban. The film is essentially set in Delhi.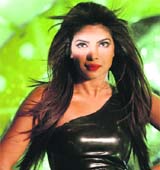 Love's labour lost!
It looks like Priyanka Chopra is in no mood to be in a relationship, even though controversies about her equation with a certain Khan have surrounded her. She recently updated her status as an "artist" on a website because she is too much in love with acting & singing and these two careers keep her busy. Love and marriage will have to wait!
Work space: Priyanka Chopra
Spice Girls miffed!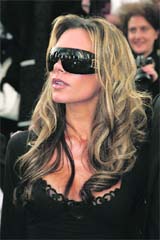 Spice Girls is disappointed with former band mate Victoria Beckham for posing with her family instead of the band at the red carpet of their musical Viva Forever last year. 38-year-old Victoria left the band to pursue a career in fashion designing. Band member Melanie C recently admitted that she and the rest of the group were disappointed by Beckham's absence, reported a publication.
"We were disappointed that Victoria didn't arrive with us on the red carpet at the premiere, I'm not going to lie. For her that evening was about her family and that's what she wanted to do. But we're all grown-ups and we've been through so much. If somebody wants to do something a certain way, then we are not going to kick up a fuss about it," she said. — PTI

Politically incorrect: Victoria Beckham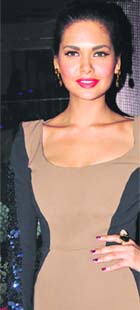 The pink philosophy
Esha Gupta loves pink & she finds that it stands out all the time. She recently did the cover of a magazine wearing lots of pink outfits and the cover had pink text too. So far, she only has one item song lined up in 2013. We hope the gorgeous and girl gets some good movies too.
Colour blind: Esha Gupta
The billion dollar club
R&B star Beyonce and rapper husband Jay Z are said to be pop industry's first billionaire couple.
The Bootylicious singer, who was made the face and body of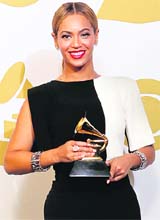 H&M's summer bikini collection recently, will reportedly rake in 75 million pounds from her upcoming tour, reported a publication.
The 31-year-old kicked off her world tour in the Serbian capital Belgrade, the first of her 58 concerts in Europe and North America. It is believed that she will scoop 1.3 million pounds for each gig.
The singer brings in more cash than record producer Jay-Z, 43 and together the couple is now worth 650 million pounds. Their one-year-old daughter Blue Ivy is said to sleep in a 14,000 pounds cedar-wood cot. — PTI

Money matters: Beyonce
On & off love story
Actress Kristen Stewart and on-off boyfriend Robert Pattinson were spotted holding hands at the 14th annual Coachella Valley Music and Arts Festival.
The couple showed slight PDA (public display of affection) while walking among numerous festival attendees. Pattinson walked in front of his girlfriend while holding her left hand behind his back.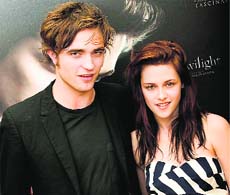 Stewart looked fresh in a loose white t-shirt, short black pants, a cap and a pair of sunglasses, while the Remember Me actor donned a teal shirt, blue jeans and a pair of sunglasses.
According to reports, Stewart has rented a house in a nearby area for the weekend. The duo, who met on the sets of their film Twilight, had split after Stewart was caught cheating on the actor with married director Rupert Sanders. But it is said that they soon reconciled and have agreed to give their relationship another chance. — PTI

Last chance: Robert Pattinson and Kristen Stewart