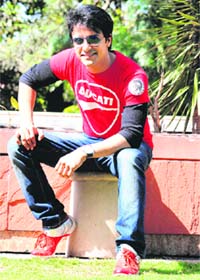 Marvellous moves
You are my part, I am yours. I believe in selfless, unconditional loving, giving and serving mankind…the words come from a cool dude in red tee and jeans! Well, this is Akshat Raj Saluja, all set to become a superstar (that's his worldly aim) so that he can have a global chain of wellness centres (most problems of mankind today are related to the mind). Right now apart from being the face of Sprite, Bru, Titan, Tata Sky; anchoring, acting and dancing, Akshat, in his twenties, is trying to set up a school for Babar Ali (famous as the youngest headmaster in the world) in Murshidabad, West Bengal.




STEP UP: Akshat Raj Saluja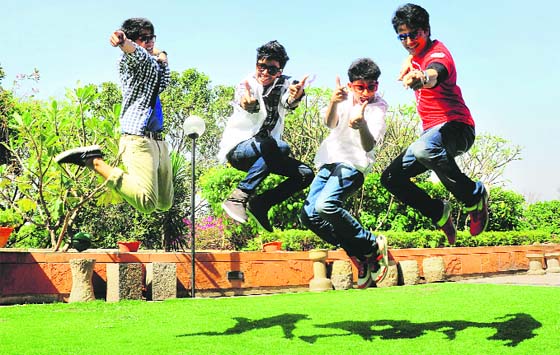 High octane:

(L-R) Preet Rajput, Sparsh Shrivastava, Ojas Godatwar and Akshat Raj Saluja. PHOTOS: S Chandan
An act in time
Making a mark in the Punjabi film industry sans a microphone can be safely called a Herculean task. "It's only as difficult as stepping on the moon," laughs the Chandigarh brought-up and Mumbai-based actor Harish Verma. There is an inclination to mince no words, in between the attempts at making politically correct statements.
Now, Punjabi turf for Shahbaz
Sporting a white baggy-cap and a black t-shirt with a sling bag, it was only his baritone voice that was reminiscent of the famed Haider Ali of Tipu Sultan and the memorable roles he essayed in Yug as well as Chandrakanta. Keeping fingers crossed for his debut in Punjabi cinema, versatile actor Shahbaz Khan says that the experience of working in his first film here was fun. "I wanted to do a Punjabi film for long because I like the culture and traditions here. I got offers to do Punjabi films earlier as well, but I liked the script of Bikkar Bai so I took up the project," he says. Thanks to this experience, he is doing two more Punjabi movies now!
Frozen moments
Time is an illusion; you only realise its value when the moment is gone. There are a few who savour that very moment, live it and then frame it in a painting, in which it lives forever. Priyanka Dua, Delhi-based artist who showcases her works in a solo exhibition Living in a moment for the first time in Chandigarh at Art Portfolio, believes in capturing moments.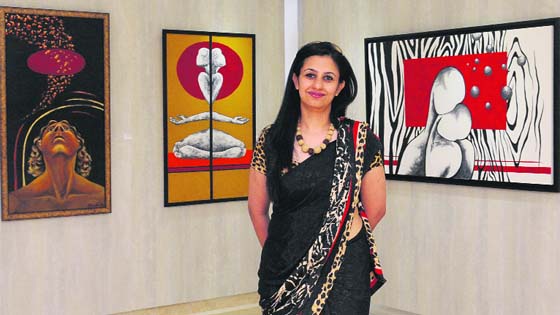 creative streak:

Artist Priyanka Dua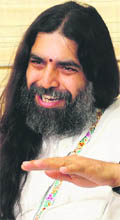 Say goodbye to stress!
It all started when the founder Sri Sri Ravi Shankar, through his guidance and grace, transformed many lives. Now, with 5,000 centres across 157 countries, the Art of Living Foundation is working in collaboration with the United Nations and the World Health Organization and linked to more than 300 million people. At JW Marriott, Chandigarh, on Tuesday, the Foundation launched a workshop especially for people in the corporate sector.





Rishi Nitya Pragya

TRENDSETTER
Classy charm
He has modelled for many renowned designers. He loves to cook, go on long drives and explore the world. While everyday is a new adventure for him, gymming for a healthy lifestyle is a part of his daily routine. Sahil Kanwar has his own way of charming others and highlighting his own style statement.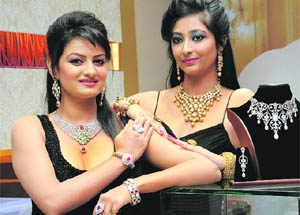 Shining bright
Jewellery enthusiasts have reason to rejoice now, as Mool Ji Diamonds has opened a studio at Elante Mall, Chandigarh. The studio is a treasuretrove of sparkling and resplendent gold, diamond and platinum jewellery range. Says Tarun Singla of Mool Ji, "Apart from our showrooms at Sector 26 and Manimajra we wanted to bring out an exquisite international range here."


Models display the jewellery at Mool Ji Diamonds

Amritsari tadka
CITCO's Amritsari Food Festival that will be held at Baithak, Kalagram, Chandigarh, from April 19-22 provides an opportunity to savour the best of Punjabi delicacies, both vegetarian and non-vegetarian. At the festival, you can choose from an assortment of Punjabi dishes that have the flavour of well-known dhabas of Amritsar.
tune in
Desi beats
It's a typical Bathinda to Birmingham story. The second-generation Punjabi diasporas decided to draw in the best of both worlds, by combining songs of the soil with the styles of the West. Bhangra music has long taken its steps towards mainstream credibility. To cut the long story short, today Bhangra music is big, really big; courtesy the British-Asians who transformed the genre into a vibrant dance music with equally catchy lyrics. Originally meant to be the music for celebration of the harvest, it's now come to signify the urban British Asians having a good time in Southall Clubs. It's the genre that brought the 'large wooden-barrel drum' that is the dhol, to the fore.
star track
Shruti is a foodie
Ace singer Shruti Pathak has recently wowed us with hit songs like Shubhaarambh from Kai Po Che. She usually sings for Amit Trivedi and is busy travelling around the world for shows. She is a big foodie. She talks about her favourite — food.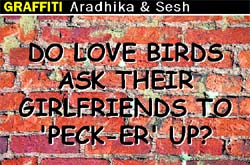 Work over fun


Priyanka's assistant found dead in LA


Life is good


New collaboration


Centenary moment


Vidya's crazy video


Getting through the act


Decent collections


Friendly praise
chatter box
Romantic pursuit
Post Bigg Boss Season 7, Vishal Karwal announced that he had nothing to do with Sana Khan, who he supposedly liked during the show. Now, the buzz is that he is dating another hottie from the show, Karishma Kotak. Apparently, the couple was spotted hanging out together, which led to the rumour.



Channel wars


The drama queen finds her Akbar


Vacating the sinking ship


Shot and dropped