star track

Shruti is a foodie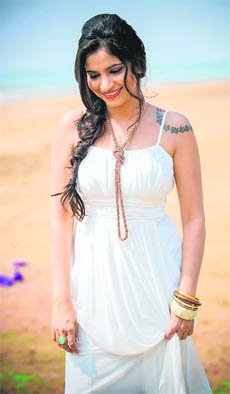 Ace singer Shruti Pathak has recently wowed us with hit songs like Shubhaarambh from Kai Po Che. She usually sings for Amit Trivedi and is busy travelling around the world for shows. She is a big foodie. She talks about her favourite — food.

Gujarati girl

I am a total foodie from Ahmedabad or Amdavad! I have a small appetite and I am a vegetarian but I love eating, especially food cooked by my mom. When I travel, I sometimes survive on salads and I miss my home food even more! I love Indian and Mexican food the most.

Experimenting with flavours

I like experimenting with food the way I experiment with music. So many flavours and spice make or change a dish. Similarly, trying different ways of singing and new instruments enhance music and give us something new and refreshing. I like spontaneity. I try vegetarian varieties in different cuisines. Once I made a big mistake. I put something on the gas and forgot about it.


Food fundas:

Shruti Pathak

Work over fun

Salman Khan can compromise anything for work. As we all know Sallu has a big family and all live together under the same roof and there is a strong bonding between them. 

Another most important facet of Salman's family is that they celebrate festivals of all religion. The way they celebrate Eid, they celebrate Diwali.

The entire family celebrated Gudi Padwa recently and her mother Salma asked Salman to celebrate the occasion with his family but the mama's boy rejected the plea of his mother.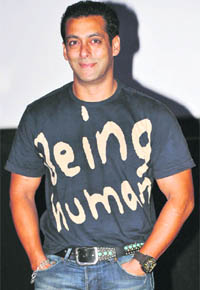 Salman is shooting for Sohail Khan's movie Mental in Lavasa, Pune and the Dabangg star is giving everything to the movie to make it another blockbuster. He does not want to take one day leave for the celebration and said no to his mother who wanted her son to stay back home and celebrate.
"This Gudi Padwa, Sallu's mom Salma had asked the actor to be home to spend the day with his family. However, due to his recent ill health, work on brother Sohail Khan's film Mental is already running late. He decided to stay back at Lavasa to continue shooting," a source said.
Unlike every year, this year Salman Khan will not have a Eid release as the shooting of his film is running slow. 
Mental stars Tabu, Naseeruddin Shah, Daisy Shah, Sana Khan apart from Salman. The movie is slated to release in January 2014.

Tight schedule: Salman Khan
Priyanka's assistant found dead in LA
Priyanka Chopra's assistant was found dead in Los Angeles. It was been a week since her assistant was found dead in his Beverley Hills hotel room but there has been no fund to bring her assistant back to India to his family for the last rites.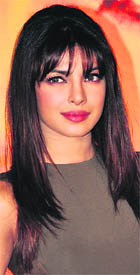 Jiban Patra, 41 was one of Priyanka's assistant who accompanied her to Los Angeles and to Vancouver. Jiban stayed in his hotel and did not accompany Piggy Chops to Vancouver as he did not get the visa. The Los Angeles police department is investigating the case and concluded that it was an unnatural death.
A source from the US said, "Jiban has two kids and a wife back in Mumbai and they have been in constant touch with Priyanka Chopra's office to arrange for his body to be brought back home. But nothing has worked out so far. The death was also hush-hush till the Indian community took it up strongly and put pressure on Priyanka to arrange for Jiban's passage to India. It is a tragic case as he is the only earning member of the family and lost his father to heart attack last year."
A source from the US confirmed that all necessary paperwork and legal authorization has been worked out and the body will be transported to India soon.

wrong turn: Priyanka Chopra
Life is good
Rajkumar Yadav has usually played the grey or bad guy. He is a terrific actor and recently wowed us in Kai Po Che. He talks about his passion for acting, dreams and his girlfriend Anvita.
Dream girls
I am a die-hard fan of Sridevi and Madhuri. It is my dream to work with Penelope Cruz because she is such a diva and yet very sweet. My parents are big fans of Amitabh Bachchan and Sanjeev Kumar. They were very supportive of my acting dreams and even confident that I would make it. So we are happy.
International favourites
I am in complete awe of Daniel Day Lewis. If I have to compare or rate myself before him, I would be on the minus side of the scale. I am nothing before him. I completely believe in preparation. I also admire Robert De Niro and particularly loved Taxi Driver.
Filmy partner
My girlfriend Anvita and I have been dating for almost 20 months now. She is just starting out in her career and is my biggest critic along with my friends Dev and Vinod. We discuss our characters, films and aspirations. We understand each other. She loved my work in Kai Po Che and felt she could only see Govind during the film, not me. I am in a happy personal space too.
Training time
I knew from an early age that I wanted to act because I acted in school plays and I loved dancing. I did theatre after my graduation and went to FTII, Pune. I had a great time there. At that time, I was 'living in' with acting and now I am 'married' to acting. I feel training in acting is important as it polishes what you have. Yet,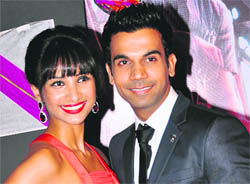 spontaneity is also important. So it is good to have a mix of both.
Good luck
I am a hard-working guy but I take 3-4 days off after working for a month. I have a life beyond acting and work. I love reading, travelling and these experiences help me in my acting. I have not had to struggle much and I have had a variety of films consistently and they all look good on my resume.

happy space: Anvita with Rajkumar Yadav
New collaboration

Shahid Kapur and Vishal Bhardwaj are collaborating once again after Kaminey and we are thrilled about it! They are doing an adaptation of a Shakespearean play, either Hamlet or King Lear.  We think this movie will be great. Neither of them has had a major critical or commercial success since Kaminey, in which they worked together.
Shakespearean ACT: Shahid Kapur
Centenary moment
To commemorate the 100-year-anniversary of Indian cinema, a magazine brought together Dilip Kumar, Amitabh Bachchan and Shah Rukh Khan on its cover. It is once-in-a-lifetime feat!
Vidya's crazy video

Vidya Balan is going to shoot a video for her upcoming movie Ghanchakkar which will be a tribute to all the husbands, boyfriends and fiancés of the world. The song is composed by Amit Trivedi and will portray Vidya's crazy character in the movie. A lot of planning is happening around the song.
Tribute to men: Vidya Balan
Getting through the act
Arjun Kapoor was nervous about acting with Rishi Kapoor in Aurangzeb. The young actor is very close to the senior actor so it was difficult for him to hate him and be rude to him as demanded by the script. Rishi came to his rescue and helped him get through his scenes.
Decent collections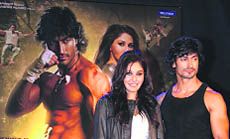 Both Commando and Nautanki Saala made more than Rs eleven crore in their first weekend. They both got mixed to positive reviews. The trade is yet to decide the fate of the movies and we will get to know the complete picture later this week. Ek Thi Daayan releases on 19 April to compete with them.
Decent opening: Commando stars
Friendly praise
Nargis Fakhri has posed in bikinis and swimsuits for a magazine and she looks sizzling in them. Her "good friend" Uday Chopra re-tweeted the pictures and said: "How hot is this woman!" We are saying he is very lucky to be involved with such a beautiful woman and with him, she can live luxuriously without working for a day in her life. It is a good thing she likes modelling.

hot babe: Nargis Fakhri