Rs 175 crore earmarked for subsidised food in state
Kangra, April 17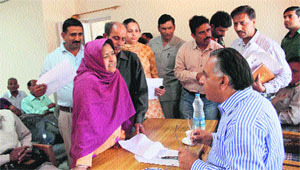 The state government has decided to authorise the SDM and the local MLA to have a surprise inspection of ration depots of the Food and Supplies Department so that better facilities are provided to the common people through these depots.
Transport and Food and Civil Supplies Minister GS Bali hears grievances of people at Pathiar village in Nagrota Bagwan on Wednesday. Photo: Ashok Raina
800 IRB cops fail to get 13th month's pay
Hamirpur, April 17
More than 800 police personnel of the Indian Reserve Battalion (IRB) stationed at Jangal Beri have failed to receive the 13th month's pay, given to them as a special incentive, due to reported paucity of funds.
Absence of blood bank in first referral unit affects treatment
Solan, April 17
The absence of a blood bank in the first referral unit (FRU), Nalagarh, has defeated the very purpose of upgrading this hospital according to the provision of the National Rural Health Mission (NRHM).
Villagers submit demands charter to DC
Bilaspur, April 17
Some thousand villagers, mostly women, took out a demonstration in the town here today. They sought an immediate intervention of the district administration to get their problems solved from the factory management at Barmana.
SJVN signs pact with HelpAge India
Shimla, April 17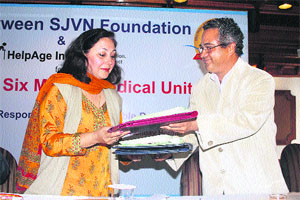 Satluj Jal Vidyut Nigam Limited (SJVNL) today signed an MoU with HelpAge India for running six mobile medical units and organising specialised health check-up camps in and around the project affected areas. The MoU was signed in the presence of RN Misra, Director (Civil), NL Sharma, Director (Personnel), and RK Bansal, Director (Electrical), of SJVN Limited.
D Sarveswar, secretary, SJVN Foundation-cum-AGM, corporate social responsibility, exchanges the MoU with Madhu Madan, country head, HelpAge India, in Shimla on Wednesday. Photo: Amit Kanwar
Farmers fail to take benefit of bamboo-charcoal technology
Dharamsala, April 17
Farmers of the state, especially in the lower Himachal region, have failed to take the benefit of the bamboo charcoal technology developed by the Institute of Himalayan Bio-resource Technology (IHBT) a CSIR centre at Palampur.
State to regularise services of lecturers
Shimla, April 17
The state government is expected to make appointments and regularise the services of college cadre lecturers in consonance with the Recruitment and Promotion Rules framed under Article 309 of the Constitution. This was held by the HP High Court while disposing of the bunch of petitions filed in this regard.
PTA given a chance
Shimla, April 17
The government has given an opportunity to all the PTA teachers appointed up to December 30, 2007, and terminated later, an opportunity to place their case for reconsideration.
Lecture on wireless technologies delivered in Central varsity
Kangra, April 17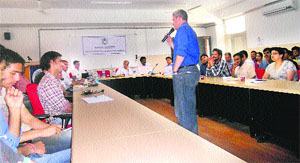 "The digital communication is now shifting its base from urban settings to rural," said Micheal Ginguld, Director, Strategy and Operations, Rural Broadband, and CEO, Airjaldi Networks, while delivering a lecture on "Connecting Rural Areas to the Internet through Wireless Communication Technologies" at the Central University of Himachal Pradesh (CUHP) at Shahpur yesterday.
Micheal Ginguld, Director, Strategy and Operations, Rural Broadband, deliveres a lecture at the CUHP in Shahpur on Tuesday. Photo: Ashok Raina

Patwari arrested on graft charges
Dharamsala, April 17
The District Vigilance and Anti-corruption Bureau has arrested Gaurav Vashisht, a patwari posted at Indora, on graft charges. Vimal Gupta, SP, Vigilance, Kangra, said complainant Harjinder Singh, retired Head Constable of Punjab police, had lodged a complaint against the accused patwari.
Youth hurt in road accident
Bilaspur, April 17
Youth Anil Sharma, son of Kali Dass, of Bagin Banola village near here, was injured seriously when his bike was hit by a speeding HRTC bus near Chakkali village,on National Highway No. 103 yesterday.
3 get burn injuries as gas cylinder explodes
Bilaspur, April 17
Three persons were seriously burnt when an LPG cooking gas cylinder caught fire inside the kitchen of the Mahakali Mandir at Tiun village near Suharghat, 50 km from here, yesterday.
BDO employee commits suicide
Nurpur, April 17
Vinod Kumar (27), a resident of Khazan village, reportedly committed suicide last night under mysterious circumstances. According to information, the deceased, who was a contractual employee in the local Block Development Office (BDO), did not return home after duty. His family members, with police assistance, started a search for him.
Biker killed in road accident
Nurpur, April 17
Bishan Singh, a resident of Sadwan, died in a road accident when he lost control over his motorcycle which hit a roadside parapet here today. The police said the body was found in a nullah this morning. The police, led by DSP Rajiv Atre, rushed to the spot.
Leopard attacks woman
Bilaspur, April 17
A leopard attacked Amro Devi of Tadaun village here yesterday. Prakash Rao, husband of the victim, said the leopard suddenly pounced upon her from behind the bushes and tried to grab her neck.