G R O U N D Z E R O
Musharraf in the line of fire — as always
It was apparent that Musharraf was not going to ride into the sunset quietly. He waited till he thought he had an opportunity to make a comeback. He threw caution to the wind and did a commando-like return. But it was his turn to be caught by surprise.
raj chengappa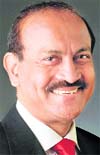 Former Pakistan President General Pervez Musharraf never ceases to surprise; the latest being his arrest last week in Islamabad, thereby becoming the first ever Pakistan Army chief to face such ignominy. His recent return to Pakistan to contest the May general elections after being in exile in the UK for the past five years is the latest in the series of miscalculations the former supremo has made in his checkered career.

As a young officer in the Pakistan Army, Pervez Musharraf served in the elite Special Services Group after being put through rigorous commando training. He never forgot the lessons of launching audacious attacks on the enemy and striking hard and fast. Those tactics may have stood him in good stead as he rapidly progressed up the army echelons, but would be his undoing in his later years as a leader.

Musharraf was third in the line of succession when the then Prime Minister, Nawaz Sharif, chose him to be Army chief in 1998, believing that he would do his bidding. Sharif would soon regret his choice when first Musharraf launched a border war with India across the Kargil heights in 1999 without clearing it with him. Then despite Pakistan taking a beating in the war, Musharraf engineered a coup and sent Sharif packing to Saudi Arabia in exile. He then ruled Pakistan for nine long years, simultaneously holding the offices of President and Chief of Army Staff for most of his tenure.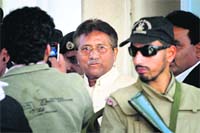 Pervez Musharraf after the court ordered his arrest in Islamabad. PTI
I first interviewed Musharraf in July 2001 in Rawalpindi at the sprawling official residence of the army chief, a month before the disastrous Agra talks he had with the then Indian Prime Minister, Atal Behari Vajpayee. He spoke with refreshing candour, painting himself as a democrat and stating that his first meeting with Vajpayee would be a "historic moment for real peace". When I asked him where his super-confidence stemmed from, he replied, "I don't believe in making life, well, a matter of life and death. I believe in calculation and cool analysis."
Yet, a month later, he would stand exposed when at Agra he tried to ambush and browbeat an experienced and unflappable Vajpayee into a deal over Kashmir, believing his commando tactics would work. It fell flat and Musharraf had to leave empty handed. Soon after that, the 9/11 attacks occurred and Musharraf was forced to do the US bidding in putting down militancy or face the consequences, earning the sobriquet "America's General".
During his tenure he did try his hand at reforming Pakistan and making peace with India, but he was always tall on talk and short on delivery. Like most commandos, he was known to be good in tactics but rarely in strategy. To his credit, Musharraf was never accused of being personally corrupt when in power, though he is said to have ensured that his former army colleagues were given prime positions and lucrative contracts.
It was when he sought re-election as President and found that he was being thwarted by a recalcitrant higher judiciary that he once again adopted commando tactics of striking hard. He sacked the Supreme Court judges and declared a state of emergency. It was a gross miscalculation as it would trigger a storm of protest that would finally see Musharraf get the boot in 2008. To avoid facing a raft of serious charges, including illegally sacking judges and committing treason while in power, Musharraf went into exile in London, reportedly with the army backing.
I met him the next year in 2009 when he came to address the India Today Conclave and had just released his autobiography titled "In the Line of Fire". At the Qutub Minar, where he had gone sightseeing, we chatted. He had regained his famed confidence, and when questioned about the deteriorating law and order situation in Pakistan, he countered it by pointing out that India was no better with Maoists causing havoc. He brushed aside questions of returning to Pakistan, stating that he had no plans to head a political party and did not see any role he could play then.
It was apparent, though, that Musharraf was not going to ride into the sunset quietly. He waited till he thought he had an opportunity to make a political comeback, when there were signs that no party would emerge a clear winner in the coming general elections and the next government too may be a coalition. He then threw caution to the wind and did a commando-like return to his country. But it was his turn to be caught by surprise — by a judiciary that had never forgotten or forgiven his misdemeanours against it. Musharraf may be down, but it's too early to count him out.