prime concern
water

Unlimited thirst, limited supply
India recently adopted the National Water Policy of 2012, which most states objected to since water is a state subject. But states must come together and regulate water use if they want to survive a looming crisis.
By Vibha Sharma
Maharashtra is facing the worst drought of the past four decades which, experts believe, is not nature generated. Ajit Pawar, the arrogant state minister who recently disseminated a new way to fill dams, is in the dock for his anti-farmer and pro-industry outlook. His inclination toward water-guzzling sugarcane and grapes and the associated industry reflects how states "manage" their fast-depleting water resources.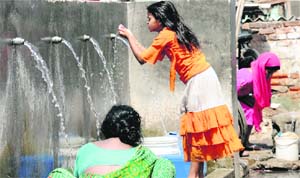 Fresh water has two sources — surface run-offs and ground water, both heavily dependent on monsoon. "Quantity-wise, there is no problem with the availability of water. The problem is distribution," says AB Pandya, Director-General of the National Water Development Authority and organising secretary of the recently concluded India Water Week that focused on efficient water management.
His advice to mitigate drought is by allocating water judiciously and equitably. "Efficient management goes further than mere improvement in water-use efficiency. It requires assessment of availability and harnessing measures in implementation, efficient distribution and application mechanisms in the context of adaptability of the user population. Every state knows its problem areas — drought-prone regions for instance. It is necessary to recognise that water is a reusable resource and the same quantity can be used to cater to multiple uses," he says.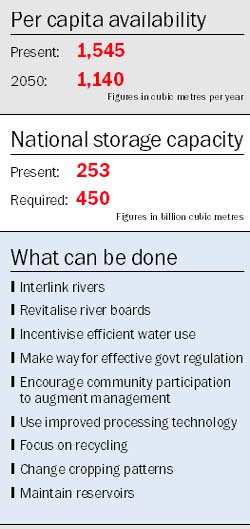 Himanshu Thakkar of the South Asia Network on Dams, Rivers and People (SANDRP) says rainfall in Maharashtra was above average in 2011 and most dams were full, but the state made no attempt to curb either the planting of cash crops or water-intensive activities like sugar and wine factories. A majority of states like Gujarat, Karnataka, Tamil Nadu, Punjab and Haryana are in the grip of a water crisis, compounded by mismanagement and political compulsions. Add to this farmers' resistance to come out of water-intensive cropping patterns, apathetic industries and groaning drinking network, and the picture of India inching towards an alarming water situation is complete.
Less and less
Many reservoirs are in a bad shape due to poor management and maintenance. India is water stressed and further reduction in the per capita availability would soon make it a water-scarce nation, says Water Resources Minister Harish Rawat.
The per capita availability is 1,545 cubic metres per year, which will decrease to 1,140 cubic metres by 2050. With 1.21 billion people (18 per cent of the world's population) India holds just 4 per cent of the total usable water and 2.3 per cent of agriculture land in the world. "India needs a storage capacity of 450 billion cubic metres (BCM). The present capacity is about 253 BCM," he says.
Water is primarily required for agriculture and irrigation, industry and power, and drinking purposes. Despite low availability, there is no data on how much water is utilised by each sector. Experts have deduced consumptions based on available government data. Chandra Bhushan, associate director, Centre for Science and Environment (CSE), says the agriculture and irrigation sector is the largest consumer, (75 per cent of consumption), followed by the power and industry sector (15 per cent), and domestic drinking water (10 per cent).
Water in India is a story of mismanagement, corruption and lack of political will. Corruption has been endemic in many surface water projects. With over 3,700 projects, Maharashtra boasts of the highest number of dams in the country but the expenditure of over Rs 75,000 saw the total irrigated area increase only by 0.1 per cent from 2000-01, when it was 17.8 per cent, claims Thakkar.
Many times, canals are constructed but distributaries and minor canal implementation get stalled due to problems in land acquisition. Water is considered common property, but without any responsibility for sustenance of resources. So, the industry does not bother about the large amount of water it uses while farmers get subsidies to exploit the depleting ground water.
Bhushan says the industry and power sector use cleaner water but discharge dirty water. "Thermal power, textiles, paper and iron and steel are highly water-intensive sectors. Industry water usage is very high due to obsolete processing technology and poor recycling and reuse practices and wastewater treatment," he says.
Industrial water use is growing, as is the agricultural demand due to bad cropping patterns. Paddy growers of Punjab and Haryana refuse to abandon cash crops and flood irrigation in favour of the SRI system which reduces water use to 50 per cent. "Punjab and Haryana are utilising 50 per cent more water than they hold," he adds.
Over 80 per cent of domestic supply depends on ground water. The water table has fallen and there is pollution in natural and manmade sources. Ageing networks in crowded cities have compounded the problem. Delhi receives around 800 million gallons of water per day from the Yamuna and Ganga, besides the ground water, but nearly half of it leaks out, the CSE claims.
Pricing it right
Effective technological support, community participation and awareness to augment management, along with strict regulations, may be the answer. Water is a state subject and there is lack of effective government regulation. "Policies on water are a public health concern. Their fragmentary nature renders them powerless. Few incentives are provided to the industry for efficient water use. Water tariffs are paltry. Conflicts between the industry and local communities are on the rise over water appropriation," says Bhushan.
India recently adopted the National Water Policy of 2012, which most states objected to fearing infringement of their constitutional rights. Punjab, Jharkhand, Chhattisgarh, UP and Bihar rejected the setting up of a regulatory authority.
The policy is a guiding document on managing water but there is hope the effort, along with new laws and Centre funding, could ensure long-term regulation. "States have to depend on the Centre for funds. The water policy has given the government a handle to monitor their activities," explains a senior government functionary.
Another opinion within the government is to treat water as an "economic good" with proper pricing and a regulatory authority. There is also a thought that ground water rights should be separated from land rights.
Linking rivers
The Centre is revitalising the River Boards Act, 1956, which provides for the development and regulation of inter-state rivers. The Doabia panel has submitted its report and the law is under inter-ministerial consultation. Officials say the Act will give Centre control over river basin and sub-basin for increasing water-use efficiency, minimising damage to soil and mitigating flood problems.
"Proper assessment of available water and evolving a system of allocation that can provide flexibility to adjust with times is the only way forward. It is not possible to create storage where water is required. India gets around 100 days of monsoon with actual rains limited to about 50 days. To be able to store rainwater and make it run for 365 days is not possible. It is a myth that harvesting rainwater can recharge the ground water completely. The recharge rate is slow and can only provide local relief.
"Fresh water availability is 1,869 BCM, including surface run-offs and ground water. Of this, 1,123 BCM is the utilisable water for which the Brahmaputra basin yields 563 BCM and the Ganga-Yamuna system around 500 BCM. The only solution is the interlinking of rivers," says Pandya.