Golf Club

Elections witness record turnout
Deepankar Sharda
Tribune News Service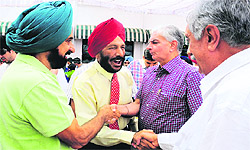 Milkha Singh greets other members.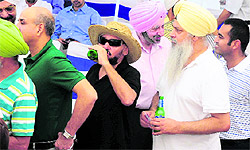 Members in a cheerful mood. Tribune photographs

Chandigarh, April 21
The Chandigarh Golf Club witnessed a record turnout at the annual governing body elections this year. The casting of votes started at around 11 am and went on till 5pm, here this evening. Reportedly, a total of 1142 votes were casted by the end of the day and till lunch time, the voting-toll had reached to 1000. This is the highest polling count ever, since the formation of the club. Last year, the voting figure had touched 1000.
Personalities, including Milkha Singh, Malwinder Singh, brother of former PPCC Chief Captain Amrinder Singh and a few other top shots of the region casted their votes at the start. "The incident is now a history and like every other member, I would like to start afresh. We all are here for some important reason and I hope that only the best will win the hot seat", said Milkha Singh.
Parking chaos
The local traffic police and PCR vehicles faced harrowing time in handling the parking issues outside the Chandigarh Golf Club, here today. A group of VIPs and VVIPS, who had arrived to cast their votes, were seen parking their cars over the green footpath and on road. As per traffic laws, the parking of vehicles on the foot-pavement is forbidden.
"Tum Jante ho ye Kiski Gaadi hai (You know, whose car is this), we have been listening to such lines since morning. We have been requesting everyone not to park their vehicle on foot-pavement, but no one is bothered. The drivers of these vehicles do not listen and instead simply oppose our requests by warning us. We are standing here like dummies but having no other option, we will have to kill our time this way", said a PCR official.
Another traffic police personnel added, "The recovery van is here and the road could be cleared in few seconds but we are influenced by their powers. The club serves the top personalities of the region. We can only request them, rest you may (the reporter) click the photographs". Interestingly, the aged -members of the club, were given pick and drop facility. Two carts were riding the aged-members from the parking lot to the voting-premises directly.
A different election
The election was a different affair altogether this year. Unlike other elections, the liquor was served openly, right outside the polling booth. The members were seen enjoying beer, while standing in queues for casting votes. A member seeking anonymity mentioned, "This is among a feature that makes the Golf Club different from other clubs. Everyone here is retired but is still young at heart. Holding a pint of imported beer while casting vote makes elections even more interesting", he added. The result of today's election will be declared tomorrow at 10 am.