Lighting up the screen

Whoever said mainstream cinema is your ultimate label to fame, hadn't perhaps taken a couple of career graphs into consideration. Rahul Khanna, defies conventions and redefines stardom. If the name takes a moment to register, the appearance won't. 1947 Earth, Bollywood/Hollywood, MTV Most Wanted…out of sight is not certainly out of mind!


Girls having a good time at the party.
Luxury at hand
While there are some watches that tell the time, there are others, which speak volumes about your time! If you are the sort, who is addicted to watches, Tissot brings a collection your way that is hard to resist.
A train, a heritage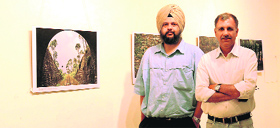 They have clicked her in all possible poses and in every passing season. She travelled through the mountain spring and turned carefully, yet reluctantly towards the chilling winter and even while tiptoeing along the edge of the high altitudes, her every movement translated into sheer grace.

Shoot at sight: (L-R) Shubh Mohan Singh & Sanjay Kaushal
Brush with art
Locally, you will recognise her as the artist who painted the walls and staircase of Books and Brew, Rajbhog restaurant or Pashtun (earlier known as Khyber). With no artistic background, Shifa Mahajan has come a long way towards the circuit of fame. Although things have fallen into place so far, according to Shifa, she still has a long way to go.


Pun'jab'

Sandeep Joshi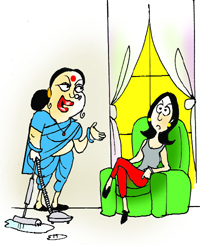 Over and out:

I can't keep telling each one, you can check my Facebook status for next month's leave schedule.
Designer touch
For some, a kitchen is nothing short of a magic. Touch the panel, and it opens automatically to uncover the cutlery and utensils behind. Touch it again and the cover rolls back.
TRENDSETTER
Built in style
He loves swimming, body building and car racing. He loves deejaying as a hobby and his singing talent invigorates the air around him. With his striking physique, charming personality and a familiar cordial style, Lovin Ranu is truly a style icon.
stress buster
Be positive
The Mayo clinic reports a lot of benefits associated with positive thinking. It improves overall health by increasing your ability to cope with stress and increases the lifespan. It makes you...
star track


Tanishaa's fitness mantras


Too late to apologise


Doing her bit


Three's not a crowd


Designs on you


Meet me halfway
chatter box


Venturing upon new creative territory


Vivian to leave Madhubala?


Hail the force to reckon with


Beaming with joy


Of morality and social concerns