Three of family killed in accident
Their car crashes into parked truck
Tribune News Service
New Delhi, April 24
Three family members, including a nine-year-old boy, were killed when the car they were travelling in rammed into a stationary truck laden with bricks at Swaroop Nagar in northwest Delhi early this morning.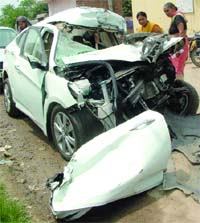 The mangled remains of Hyundai Verna car which rammed into a truck at Swaroop Nagar in northwest Delhi on Wednesday. Tribune photo
The deceased are named Ruchi (45), her nine-year-old son, Vedanta, and her mother, Pushpa (65). Ruchi's husband, Roshan, who was driving the white Hyundai Verna car is injured. He is being treated at the Fortis Hospital in Shalimar Bagh.
Roshan's sister-in-law, Reena (20) and his brother-in-law's son, Aaryan (6), escaped unhurt.
The six persons are residents of sector-16 in Faridabad. They had gone to Chandigarh to attend a relative's wedding. They were returning to Faridabad when the accident took place.
A police officer said the accident occurred in front of Mohan Villas banquet hall on the National Highway-1. The truck was parked on the highway after a puncture in one of its tyres.
"The car was being driven at a very high speed. It rammed into the rear of the truck. The left side of the car was mangled due to the accident. The driver must have either doze off or was probably trying to overtake a vehicle," said the officer.
The incident took place at 5 am. A few minutes later, a passerby informed the police about the accident.
The police reached the site and rushed the victims to the hospital. "Ruchi and Pushpa were found dead in the car. They had sustained severe head injuries. There were injuries on their heads. Ruchi was sitting on the front while her mother was seated behind her," said the officer.
The other victims were rushed to the Babu Jagjivan Ram Hospital in Jahangirpuri. Doctors declared Roshan's son, Vedanta, dead. Roshan is in a critical condition and his relatives shifted him to the Fortis Hospital.
Investigators have registered a case under Indian Penal Code sections 279 (Rash driving or riding on a public way) and 304 A (Causing death by negligence). They are waiting for Roshan to recover before taking his statement.
"We have not arrested anyone. We are probing the truck driver's role in the accident," said another officer, close to the investigation of the case.