Violation of environment law
HC asks pollution board to take action against Fozal project
Shimla, April 24
Expressing concern for the alleged violation of the environment law by the Fozal Hydroelectric Power Project, Kullu, the Himachal Pradesh High Court yesterday directed the state Pollution Control Board to immediately take action and report the compliance of the orders within two weeks.
Devotees at Dholera, Markandeya temples to get more facilities
Bilaspur, April 23
The famous Dholera and Markandeya temples will soon be re-taken over by the Temple Trust and steps will be taken to improve facilities for lakhs of devotees visiting these shrines every year.
Educational Institutions Regulatory panel
Race for post of member hots up
Shimla, April 24
Seven persons, including a Congress leader and a retired District and Sessions Judge, are vying for the post of member, of the Himachal Pradesh Private Educational Institutions Regulatory Commission, for which the state government has invited applications.
Tibetans hold protest demanding release of Panchen Lama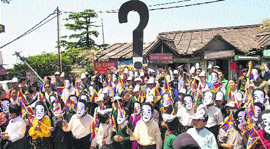 Dharamsala, April 24
Tibetan NGOs today carried out a protest march at McLeodganj demanding release of 11th Panchen Lama, Lama Gedhun Choekyi Nyima, who is allegedly in the custody of the Chinese Government.
Buddhist monks carry flags and wear masks of their leader Panchen Lama at a rally demanding his release a day before his birthday in Dharamsala on Wednesday. Photo: Kamaljeet

Vigilance busts drug racket
Dharamsala, April 24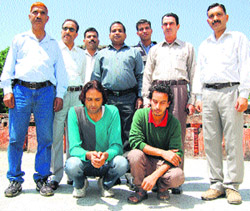 The District Vigilance and Anti-Corruption Bureau has busted a drug trade racket being operated in the Dharamsala area. The Vigilance team has arrested two youths, both residents of Jogindernagar area of Mandi, and recovered 1.5 kg charas from them. Sources here said the drug was meant for the McLeodganj area where tourists are going to arrive in summer months and the demand for charas is going to increase.
Accused Sunil Kumar and Surinder Pal in Vigilance custody in Dharamsala on Wednesday. Photo: Kamaljeet

BJP upset at misdeeds being exposed, says Chauhan
Shimla, April 24
Congress spokesperson Naresh Chauhan has hit back at the opposition BJP for making baseless charges against the party. He said the BJP leaders were upset as their misdeeds were being exposed.
Four-day Samuel Slater inter-school English debate begins
Shimla, April 24
The four-day 18th Samuel Slater Memorial Invitational Inter-School English Debate, a prestigious annual event, commenced at Bishop Cotton School (BCS) here today. Presiding over the inaugural session, Sukhpal Khaira, an alumnus of the school and former Punjab MLA, exhorted students to use education and knowledge as a weapon to make a name for themselves, besides contributing to the betterment of humanity. He praised the BCS for producing good human beings with high moral standards and ethics.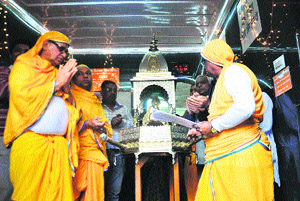 Prayers and celebrations: Devotees offer prayers on the occasion of Mahavir Jayanti at a Jain temple in Shimla on Wednesday. Photo: Amit Kanwar

Parmar university staff organise gate rally
Solan, April 24
Resenting the non-implementation of their long-pending demands various employee associations of the Dr YS Parmar University of Horticulture and Forestry, Nauni, today held a gate rally on the university premises and decided not to allow a crucial meeting of the board of management (BoM) to be held tomorrow.
Theatre workshop at IIAS from today
Shimla, April 24
The Indian Institute of Advanced Study (IIAS) here will hold a three-day national workshop on "Methodology of Theatre Training in India" from April 25 to 27.
'Delay' in 108 ambulance arrival costs woman her life
Solan, April 24
The alleged delay caused by the 108 Emergency services in sending an ambulance to Kothi village, 5 km from Solan, to transport a grievously injured Pushpa Devi cost her life as she succumbed to her injuries before its arrival.
Kullu Zila Parishad bags award
Shimla, April 24
The Zila Parishad, Kullu, has been awarded the Rajeev Gandhi Empowerment National Award for its outstanding contribution in strengthening the Panchayati Raj system.
People fed up with UPA govt: Dhumal
Hamirpur, April 24
Former Chief Minister PK Dhumal has said the people are disenchanted with the UPA government for its failures and will express their resentment in the coming Parliamentary elections by punishing the Congress.
Palampur Civil Hospital gets new Senior Medical Officer
Palampur, April 24
Dr Vinay Mahajan, a post-graduate of the Indira Gandhi Medical College, Shimla, and a renowned pathologist, took over as Senior Medical Officer in-charge of the Civil Hospital here today. He has replaced Dr Alhuwalia.
Rs 4.33 crore granted for repair of NH-1 stretch
Bilaspur, April 24
The state government has sanctioned Rs 4.33 crore for the first phase of repair of the National Highway No 21 (Chandigarh-Manali) between Garamoda to Ghaghas in Bilaspur district.
Forest guard suspended for illicit felling of trees
Nurpur, April 24
Sanjay Sen, Divisional Forest Officer (DFO), Nurpur, who had completed his inquiry into the alleged illicit felling of trees on government and private lands under Rey forest range yesterday, ordered the suspension of a forest guard and issued a show-cause notice to the local forest block officer today. The DFO had received a complaint of illicit felling on government land recently.
Leopard attacks auto driver
Bilaspur, April 24
Rajesh Kumar was attacked by a leopard near the Harlog jungle when he was returning in his three-wheeler after dropping a passenger there on Monday night.
251 donate blood on World Donation Day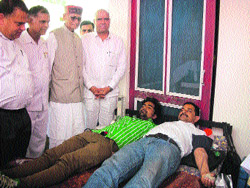 Mandi, April 24
As many as 251 volunteers donated blood at a blood donation camp organised by the Nirankari Mission which was assisted by a team of doctors from the Zonal Hospital, Mandi, to commemorate the World Donation Day. Blood donation is the best "daan" to needy patients seeking treatment at different hospitals in the state, said Shiv Lal, a voluntary donor of the mission, who was donating blood for the 31st time.
Excise and Taxation Minister Parkash Chaudhary inaugurates a blood donation camp at Dadour on Wednesday.

Reduce cement bag price, firms urged
Bilaspur, April 24 Bilaspur legislator Bambar Thakur on Monday told cement companies to have an agreement with the government on the cement bag price and stop the 'loot' of people and oustees.
Woman hit by car, dies
Mandi, April 24
A woman was killed and two other persons sustained injuries when a car hit them near Bhatta in Jogindernagar today.
Case registered against BJP vice-president
Solan, April 24
The Darlaghat police today arrested Balak Ram Sharma, vice-president of BJP's Arki Mandal, after registering a case under Sections 353, 332 and 506, IPC, for slapping Umesh Dixit, accountant, Food and Civil Supplies Corporation, in his office.
Stray bull attacks villager
Bilaspur, April 24
Villager Lachhman Dass was seriously injured when a stray bull suddenly attacked him at Delag village, 18 km from here, on Sunday.
750 gm charas seized, 1 held
Chamba, April 24
The police seized charas weighing 750 gm from the possession of a pedestrian near Hutta village, falling in the outlying Salooni tehsil here yesterday, according to a police report here.
Private, HRTC bus crew clash, 1 hurt
Bilaspur, April 23
AS Sen was arrested by the police after crew of a private bus and an HRTC bus clashed at Ghumarwin yesterday. Bus conductor Vimal Kumar was injured in the clash. The clash is said to have occurred on the issue of starting buses from Ghumarwin late as this affected the business of private bus operators. But the HRTC bus was late due to some engine trouble. The police is searching for an accomplice of the private bus operator who is also said to have assaulted the HRTC conductor, inflicting injuries on him. A case has been registered and the matter is being investigated. OC
4 injured as bus hits hillock
Palampur, April 24
At least four persons were injured, one of them seriously, when an HRTC bus met with an accident on the Panchrukhi-Paprola road, 15 km from here, yesterday. Reports said the bus was on its way from Palampur to Baijnath via Rakkar Mahjerna. When it reached near Paprola, the driver failed to negotiate a curve hitting a hillock. HRTC officials immediately reached the spot and rescued all the passengers and shifted them to hospital. Later, the injured were discharged after first aid at Paprola and Panchrukhi hospitals. A case of negligent driving has been registered against the driver. The HRTC has also initiated departmental inquiry against the driver. OC
66 donate blood at Lunj village
Kangra, April 24
Sixtysix persons donated blood at a camp organised by the Satya Sai Sewa Sangathan of this district at Lunj village in this subdivision today. Shesh Bhushan, president of the sangathan, said the blood donation camp was organised in connection with the Samadhi Diwas of Sai Baba which was observed as Aradhana Diwas. Bhushan said two teams from the DRPGMC, Tanda, collected the blood for the Blood Bank. OC
Dinesh is Director of Co-op Bank
Bilaspur, April 24
Dinesh Sharma was elected Director of HP State Co-operative Bank in a four-cornered contest held under the chairmanship of Roshan Lal Khajuria, Assistant Registrar, Co-operative Societies, here today. Total 91 delegates from all parts of the district, representatives of Co-operative Societies, participated in this election and Dinesh Sharma got 50 votes, Raj Pal Gauttam 24, Ram Gopal Chandel 13 and Pratap Kaundal 3, while one vote was declared invalid. OC