Marriage in heaven
The big fat Indian wedding is known for its extravagance. Yet a few go out of the way to make it truly memorable; over to couples who have chosen special destinations for wedding ceremonies...
When it comes to flaunting flamboyance, especially during the big fat Indian weddings, nobody does it better than Chandigarh folks. While many of you may choose to harbour your thoughts in a rather rhetoric expression of celebrating weddings, there are a few who believe in etching a cut that is defined by much grandeur, pomp and show. And if you are the sort who fancies exquisite tastes, do consider following the footsteps of these couples who took a fashionable turn towards starting their married life.
A peep into Tibet
Vijay Kranti captures different shades of the life of Tibetans in his exhibition titled Buddha's Home Coming...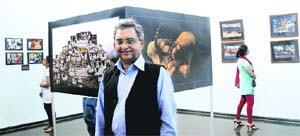 Not all boundaries are barriers; for some lines only define one's identity, which are an inevitable element of social existence. As Vijay Kranti delves into the socio-cultural and political turmoil that has for long influenced the Tibetans

HISTORY revisited: Vijay Kranti Photo: Pradeep Tewari

Bollywood calling Sara Khan!
Actress Sara Khan, who was last seen in Dhoond Legi Manzil, has signed up two comedy films. Both films deal with London, which happens to be the actress' hometown. We hear that Sara recently shot for writer Neeraj Pandey's upcoming film, Aman Ki Asha with Ali Zafar and Yami Gautam. She is also going to be seen as a lead in director Ravi Rai's film opposite, Fukrey star, Ali Fazal. 
Catching up with Emraan
Emraan Hashmi talks about having a great run at the box office, his upcoming films, Hollywood and more


Identity crisis
Recently, a woman came to an event looking for me and she claimed that I was her husband who had cheated on her. Fortunately, the police was there and they knew she was looking for Emraan Siddique. I have had weird fan moments but that one was bizarre. People tend to take advantage of stars and we are soft targets.
Sasheh Agha sings too
Pretty and green-eyed debutante Sasheh Agha will make her singing and acting debut together. She was seen in glimpses in the promo including an intimate scene, a kissing scene, and a bikini shot and now she has a song to show off her dancing and singing skills.
On the wrong side
Actress Gwyneth Paltrow has been accused of "sexualising" children by selling bikinis for four to eight-year-olds on her website. The Iron Man star's lifestyle website showed pictures of a little girl wearing one of the two-piece creations designed by her new designer Melissa Odabash, reported a publication.
Flavours of tradition
Kebab Khan launches a new menu that blends the heritage of India and Pakistan
A small twist in flavours can make a dish stand out and an ambience can complete a perfect meal. Kebab Khan, P 3 Restaurant Complex, Sector 5, Panchkula brings to you the best of Mughlai cuisine from the Khyber region.
green thumb
Really Bugging!
Yes, it is very irritating. They are crawling all over; on trees, floor, lawn, walls and even in the inside of the house. Crushed under feet, they leave a yellow spot that remains. People are consulting one and other not knowing actually what to do to get rid of these tiny devils. We are talking about the mango mealy bugs. This is the time when they are about to finish their life and coming down the trees to lay the foundation of the Gen-next!
Watch out
Casio India Private Limited, a pioneer in the field of consumer electronics and a 100 per cent subsidiary of Casio Computer Company, Japan, has inaugurated its first G-Shock Factory outlet at the Elante Mall, Chandigarh. This outlet will stock the entire range of G Shock watches including Baby-G, Edifice, Sheen and Protrek Watches. This is the first G-Shock factory outlet in India and was inaugurated by Kulbhushan Seth, Vice President, Casio India.
CELEB POINT
It's time to act
Call her 'Nirbhaya' or gudiya; the names may change but the hell they go through has been the same - brutally raped and tortured. Be it a twenty-something, who was living her dreams of becoming a physiotherapist and looking after her parents or be it a five-year-old who probably hadn't even begun dreaming.... both have been scarred. Fortunately, this little baby has been saved unlike the young Nirbhaya.
Master Chef
Kairi ka kamaal
When the mangoes flood our markets, we grab them hungrily, only to discover that the golden hued fruit is far from ripe underneath the yellow skin. I finally resort to whipping up a mango shake out of the ones that let you down. The best deal is to "do" raw mango instead, for they can't let you down, can they ? In Andhra Pradesh they make a delicious "pulihora" to tantalise the tongue as well as satisfy the stomach. A pulihora is a rice dish with raw mango or tamarind added to give it a kick. You may sneak in vegetables too, and make this a well rounded meal. Dry red chillies introduce heat to the combination, and fried cashews though optional, add extra opulence !
Health first
Piccadily square, Chandigarh, which has three state-of-the art screens, recently held Muscle Mania-2013, an event that focused on fitness and strength. The basic objective behind organising the programme was to promote health and fitness amid people of the Tricity.
Women power
There's no better way to pay a tribute to the Bollywood legend, director Yash Chopra than a fashion show with a Bollywood tadka. The Women Club Tuesday, while presenting a rhythmic show with music, dance and fashion, added this theme to the glam quotient at their annual event at Central Club, Sector 9, Chandigarh, on Tuesday.
chatter box
Hoping against hope
Hum Aapke Hain In-Laws, the show that is telecast on Sab TV, is rumoured to be going off-air due to the bad TRPs. However, Pooja Pihal is adopting an optimistic outlook towards the same. She loves doing this comedy show and wants it to continue.
Astro Turf
ARIES: You start the day on a philosophical mood. Do not jump to conclusions in haste. Not a good day to form partnership. Ventures will fail if associates withdraw support. Savings will get used up.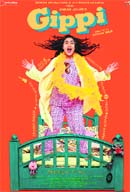 Director's muse
Gippi's director Sonam Nair has already decided on the next film that she will be directing. It will be a light hearted comedy, starring fresh and young newcomers. Gippi releases on May 10 and she is not willing to reveal more details. The budget of the film is just Rs 7 crore and it stars newcomers and debutantes too.
Problem child: A still from the film
Ameesha goes to Cannes
Would you believe that Susi Ganesh's commercial film Shortcut Romeo, starring Neil Nitin Mukesh and Ameesha Patel, will premiere at the Cannes Film Festival on May 15. It seems that it has become very easy for any film to premiere at the prestigious festival. We just hope that Ameesha turns up well-dressed for the occasion.

Host issues
Salman Khan is very busy with his film commitments and so he will be unable to host the seventh season of Bigg Boss. He has hosted three seasons consecutively. The makers are planning to rope in Shah Rukh Khan. That would be interesting!

Win some, lose some
Esha Gupta's booming film career has put an end to her relationship with Armaan Gujral, her boyfriend of several years and son of Feroze Gujral. The family liked her and she was fond of them too but they were not too keen on her acting in films. She has cut down on her trips to Delhi and has also begun hanging out with a wannabe actor, Randeep Malik. She is not the first celebrity whose personal relationship has suffered due to professional life.
Fresh start: Esha Gupta

On the surface
Anil Kapoor and John Abraham do not really get along. He did not like John getting attention during Race 2. Well, all said and done, John was the villain in the film. John also stole the limelight during the promotions of Shootout at Wadala.

The check list
Ek Thi Daayan's collections at the box office have just been average. The producers have made their money but the film has not lived up to expectations at the box office. The film has collected around Rs 16 crore so far. Meanwhile, Nautanki Saala and Commando have fared well at the box office.
Average fare: A still from Ek Thi Daayan

Double the fun
Rakesh and Pinky Roshan celebrated their 42nd wedding anniversary on the sets of Krrish 3. It was the last day of the film's shoot and the film has been wrapped up now. Rakesh did not want to cancel the wrap-up day. Two cakes were cut on the sets, one for the movie and one for the anniversary celebrations.
Me time: Rakesh and Pinky Roshan