M A I N N E W S
Snow cleared, Rohtang Pass to open soon
Kuldeep Chauhan/TNS
Kullu/Keylong, April 25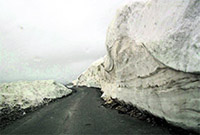 The Border Roads Organisation (BRO), which maintains the strategic 473-km Manali-Leh national highway, today cleared the 13,050-foot-high Rohtang Pass of snow. However, throwing open the highway for normal traffic would take some more time as the repair and restoration of the road was still in progress.
A team of Lahaul-Spiti administration officials, including SDM Keylong and the Superintendent of Police, crossed the pass in four vehicles and reached Manali today. The team members said BRO machines cut their way through a 20-foot high glacial wall to restore road connectivity with the snowbound Lahaul Valley after a gap of four months.
The link became fully operational on April 24 last year, but it would take around a week more to declare it fully operational this year, they added. It was due to prolonged winters this year, they added.
The district administration has allowed tourist traffic up to Marhi, about 20 km from the Rohtang Pass. With the administration setting up two rescue posts at Marhi and Koksar, local people have reportedly started crossing the pass on foot. BRO Commander Yogesh Nayyar said, "The link between Manali and Lahaul has been restored. Thirty machines are at work on four different stretches. It will take another week for normal civilian traffic to ply on the Manali-Keylong-Leh highway."
"We have cleared snow from Marhi and Kokar side, but we need more time to repair, clear, widen and maintain certain stretches of the road for facilitating smooth flow of civilian traffic," he added.
DC Lahaul-Spiti BS Thakur said the official team crossed the pass from the Keylong side and reached Manali today. "But we have not yet got official nod from the BRO for allowing normal traffic on the highway," he added.