Reading between the font size
An e-book may feel nothing like flipping through a classic book, thanks to technology, it has many takers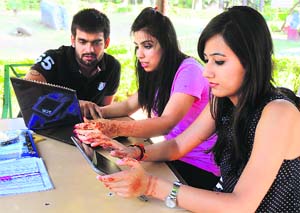 American composer, musician and film director Frank Vincent Zappa would have loved to read a book each day, but as he said so many books, so little time! And this is where the buck stops— time. This is where the digital world immediately rushes in with a big bundle of pages, scribbled in black, only you can pack similar kind of such pages of your choice, increase or decrease their font size whenever you want, call for a dictionary with a click… flaunt it as an e-book and move on.

Radhika (center) with her friends reading an e-book. Photo: S Chandan

It's happening
Unravelling the mystery of creativity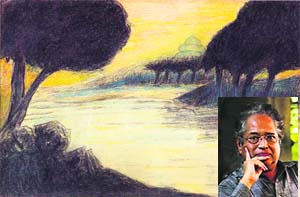 Chandigarh Lalit Kala Akademi is organising a unique evening of interactive session and slide presentation with one of the best psychoanalysts of contemporary times on April 29 at 5.30 pm at the Government Museum & Art Gallery Sector 10, Chandigarh. It is going to be a unique experience because a psychoanalyst is going to talk about the paintings of Rabindranath Tagore

Sudhir Kakar (inset) with Rabindranath Tagore's painting

It's a man's world
Here are a few fashion trends that more and more men prefer nowadays...
When it comes to fashion, there is a lot that can be done with men as well. Starting with hairstyles to patterned beards, piercing and tattoos; we bring the invigorating world of men.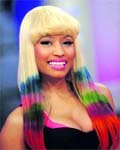 Over to acting
Nicki Minaj will play the role of an opinionated assistant in her debut movie
Singer Nicki Minaj is set to make her acting debut with Nick Cassavete's upcoming comedy film The Other Woman. Minaj will join stars Cameron Diaz, Kate Upton, Leslie Mann and Nikolaj Coster-Waldau in the movie, reported a website. The 30-year-old American Idol judge, who is known for her outlandish costumes, cosmetics, and wigs, is tapped to play Diaz's opinionated assistant, who is onto her third marriage, at law firm.
Chitrangada learning Kathak, Urdu
Actress Chitrangada Singh is gearing up for her next film by taking diction and dance lessons. Chitrangada was last seen in I Me Aur Main alongside John Abraham and Prachi Desai. The film, released in early March, did fairly well at the box office.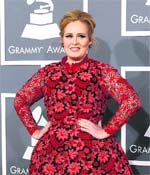 Adele back in action
Someone Like You hit maker Adele is said to be back in the recording studio, busy working on her next album. According to reports, Adele is finally back to making music after giving birth to her first child and is spending time inside a London recording studio where she'll put herself in "lock down mode" in the coming weeks. The 24-year-old singer is hard at work on her new album, finishing up several songs that will be included in her third album, eyeing a mid-2014 release for it, reported a website.

For the record: Adele

TRENDSETTER
Glamour struck
The new season brings new trends and fashions to follow , to experiment, to innovate and then preen and ask the mirror privately "who is the most handsome of all?" and "Will I get a second glance?" and that's how trendsetters come into being . An astrologer, a painter and a dental doctor too Jog Jatin Khurana is all for wearing the proper attitude -
Future Shock
Glass ceiling!
What is Google Glass?
For those who have grown up on Star Trek, our fantasies have come alive in 2013. This year has brought us the Google Glass. It looks dangerously similar to Geordi La Forge's visors in the popular CBS citcom. In fact, Google gave La Forge the opportunity to try their glasses out. His response? "It would be a downgrade".
GET PHYSICAL
Cool it down
Cooling down is the act of gradually lowering body temperature, heart rate and breathing rate following exercise. The importance and benefits of cooling down after exercise are less well known and practiced even less. What you do after your workout is almost as important as the workout itself. In order to get maximum benefits from your training, an effective cool down should be performed afterwards. An effective cool down maximises the benefits you will gain from the exercise you performed prior to it.
pet passion
Bundle of joy
"Muffin was my birthday gift last February after much persuasion and cajoling but now he is more their pet than mine," tells us young Mannat. Belonging to the aristocratic breed of Pugs, he looked at us with his big black limpid eyes overlooking the typical 'pug' up turned and rather an apology of a nose.
stress buster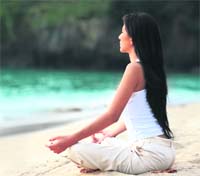 Balance your act
Learning to respond in a balanced fashion to events is a key skill in fighting stress. A generally bad day at work, at home or in general is not really life threatening. The main issue is in acknowledging your problems. Do not ignore them. Many behaviour patterns that are deeply imbedded in our psyche often surface in times of stress. You may find that many a time in a work situation or even at home  you are not comfortable with a certain situation. Slowly the resentment starts building up and you become angry and intolerant of other people.
chatter box
Mallika Sherawat's quest for love
Life OK is all set to launch the gripping series of a reality show, The Bachelorette India–Mere Khayalon Ki Mallika. The upcoming show will trace the journey of the bold and charismatic actor, Mallika Sherawat's journey to find her prince charming. The show is based on the famous international series The Bachelor, an on-screen cupid that has converted several fairy tale dreams into reality.
Astro Turf
ARIES: The day will be quite busy while you take care of the pending household chores. Hwever, once you are through, you will be able to relax. Money matters will run smoothly and health will be strong.

Love thy neighbour!
Model Nadia presents a creation from the Somal Halepoto collection during Lahore Fashion Week. Over 33 designers, brands and textile houses will present their collections from April 26 to 29 in the event sponsored by the Pakistan Fashion Design Council (PFDC). — Reuters

Of names and misnomers
Richa Chadda's character's name in Fukrey is Bholi Punjabban but she is not bholi or innocent at all. She plays a gangster by that name in the movie and she is young, hostile, ambitious and sexy; a girl who knows how to use her charm.
Blue-eyed: Richa Chadda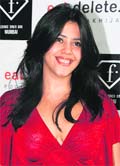 Change of mind
Ekta Kapoor saw the first cut of Once Upon a Time in Mumbaai 2 and she is not happy. So she has asked Milan Luthria to re-shoot the climax, apart from other portions. Even Akshay Kumar feels some re-shooting is needed and so Ekta's case is stronger because of Akshay's support. Milan does not feel the re-shoot is necessary but now let us see what happens.

Support system: Ekta Kapoor

The saving grace
Aashique 2 has got average reviews as a movie but the performances by Shraddha Kapoor and Aditya Roy Kapur have been well received. This movie is being called their coming-of-age film. Aditya's next movie is Yeh Jawaani Hai Deewani.
Never mind: A still from the film
Resume position


Salman Khan is back to work, shooting for his brother Sohail Khan's upcoming production Mental, in the hill city of Lavasa. Post the fracas, involving the walkout by Southern fighters hired for some crucial fight scenes in the flick, Sohail's film was stalled for 12 days and reportedly accumulated losses to the tune of several crores. Now, however, things seem to have settled down, with the unit resuming shooting in Lavasa.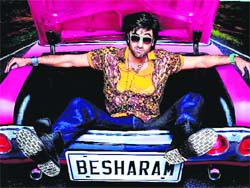 Ranbir is a bunny!
Ranbir Kapoor has funny monikers in his movies. In Barfi, he was Barfi. In Yeh Jawaani Hai Deewani, he is Bunny. Now in Besharam, he will be Pepsi. Ranbir goes with what the script and the director say and he likes that the audience relates to his cute on-screen names.

Whatever works: Ranbir Kapoor in a still from the movie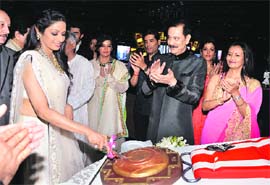 Down the memory lane
The dishes at the Sahara bash, in celebration of Sridevi winning the Padma Shri award, were named after her hit films and performances. There were dishes like Chandni jalebi, Chaalbaaz pav bhaji, Chand Ka tukda ice-cream, Lamhe lamb satay, English Vinglish salad, and many others. Such a sweet tribute. The party did not have a big turnout.

Bollywood style: Sridevi at the bash