Outstanding sportspersons honoured at Khalsa College
Tribune News Service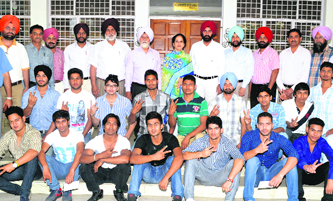 The Deputy Director, Sports, Guru Nanak Dev University, Dr Harvinder Singh Randhawa, with sportspersons of Lyallpur Khalsa College, who were honoured at a ceremony in Jalandhar on Saturday. Photo: Sarabjit Singh

Jalandhar, May 4
The sportspersons, who gave outstanding performances in the national and international-level sports competitions this year, were honoured during a function organised at Lyallpur Khalsa College, Jalandhar, here.
Dr Harvinder Singh Randhawa, Deputy Director, Sports, and head, Department of Physical Education and Sports, Guru Nanak Dev University, gave away prizes to the players of the college.
Dr Randhawa, an international athlete and also an alumnus of the college, said the students' achievements were a result of the support provided by the college to them. That infrastructural development was very important, he said plans were being mooted to provide free education to sportspersons in colleges, increase their allowances and provide better infrastructure and lodging.
On drug addiction, he said though prevalence of addiction was not significant among sportspersons, few those indulged in drug abuse did for performance enhancement.
He added that if channeled constructively, sports could be a major factor to keep addiction at bay for the youth in the state.
Four students of Lyallpur Khalsa College were honoured for their participation in international competitions, 12 for participation in national-level competitions while six students were honoured for making significant contributions in winning the MAKA Trophy.
College principal Dr GS Samra said the contribution made by S Balbir Singh, former president of the College Governing Council, for the promotion of sports in Punjab, was unforgettable.
He said the college would continue to support sports in all possible ways so that the youth might be kept at a bay from the menace of drug addiction. He attributed the record 12-time win of the Teja Singh Samundari Overall Sports Championship at the university level, by the college to the efforts put in by S Balbir Singh.
Balbir Kaur, president, College Governing Council, congratulated the prize winners and assured them of all possible help and support.
Dr Jaspal Singh, head, Department of Physical Education, said the college had won overall sports championship of the university with 16,900 points.
Dr Kulwant Singh Sandhu, Dean, Sports; S Jaspal Singh Waraich, honorary secretary, College Governing Council; Olympian S Sanjeev Kumar and members of the College Sports Committee were present on the occasion.